Driver runs after crashing car into west-side home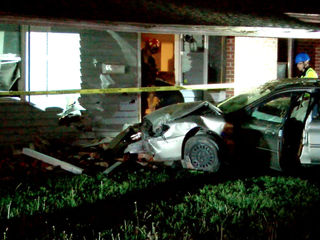 INDIANAPOLIS - A sleeping family of four was rudely awoken overnight to a car barreling into a west-side home.
Indianapolis police (IMPD) said just after 2 a.m. Wednesday, a car smashed into a house in the 4900 block of Patricia Street (see map below), damaging part of the house, but mostly the porch.
While the mother and three daughters who had been asleep in the home at the time were not hurt, police said the driver ran away before officers arrived.
If you have information on this crash, you're urged to report it to police at 317-327-3811. You can also always report information anonymously via Crime Stoppers at 317-262-8477 (TIPS). Tips can also be texted with "INDYCS" to 274637.
Can't see our map? Tap or click here.