Crews find body of missing teenager near Edinburgh Dam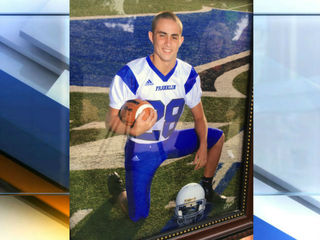 EDINBURGH, Ind. - Rescue crews have found the body of a Central Indiana teenager who was swept away in the Big Blue River on Friday.
As of Saturday night, nearly a dozen agencies had spent 20 hours over two days trying to find 17-year-old Jason Moran.
Sunday morning at roughly 10:30, crews said they found Moran's body near the base of the Edinburgh Dam, near where he was last seen.
Moran went swimming with friends Friday afternoon when all five teens in the group became trapped in raging waters while trying to rescue 16-year-old Sarah McLevish, who had been swept over the Edinburgh Dam.
McLevish and 16-year-old Michael Chadbourne remained in critical condition at IU Methodist Hospital in Indianapolis on Saturday. The other two teens were able to exit the water on their own and were reportedly unharmed.
Conservation Officer Jet Quillen said crews planned to resume the search Sunday between 7 and 8 a.m.
Officials said Sunday the water at the dam had receded enough that divers felt it was safe to attempt a search of the area just below the dam that was to treacherous over the past few days. That's where they found Moran's body.
"Any scene like this, you try to stay professional, but we're all human," Quillen said. "It does affect you. And you want to get out there and promote and preach how to prevent these types of things."
The Edinburgh community came out Saturday in support of the families of Moran and the four other teenagers on Sunday, sharing in their shock and grief.
"As a father and as a member of this community, it affects us so hard, because this is so close to home," said Edinburgh resident Zach Ballinger. "Last night I couldn't sleep at all. Everywhere I looked people were mourning and trying to help.
Pastor Lewis Burton of "Who So Ever Will" Community Church in Edinburgh offered the church's building as a gathering point.
"Probably after 30-45 minutes, the decision was set to come down here to make it the command center for people to meet at, for the families to come to, so they would be out of there and not have to watch what was going on," Burton said.
Burton said the church was providing food, drinks and a resting place for as many as 200 friends and family members of the teens.
"All I have to do is go on Facebook and say I need help, and they'll flood this place," Burton said. "That's this community. We're a tight community. We help each other."
Bob Jessie, owner of Bob's Bait and Tackle Shop, located right next to the dam where McLevish was swept over, was one of the first people on scene – even performing CPR on two of the teenagers after his grandson heard a call for help.
"It's just something that I've never experienced, and hope that I never ever experience it again," Jessie said. "I went home last night, and it was pretty tough, because you close your eyes, you see the kids."
All five teens attend Franklin Community High School. School counselors worked throughout the day Saturday to offer support for those in need.
Watch RTV6 and check back here frequently for updates.