Flames destroy main building at wood-treatment facility in Shelby County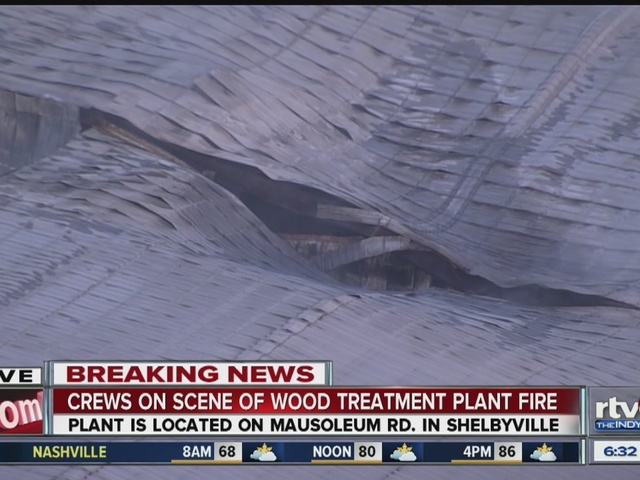 SHELBY COUNTY, Ind. - Crews were battling a fire Friday morning at an industrial building southeast of Indianapolis.
Watch our clip attached to this story for full video and more information on this fire.
The Shelby County Sheriff's Office told RTV6 that around 4:30 a.m., crews responded to put out the flames at Culpeper Wood Preservers, located on West Mausoleum Road. (See map below.)
No one was in the building when the fire started, but officials said the main building (measuring 30,000 square feet) is a total loss after the blaze. The flames did not spread to any surrounding buildings.
Shelbyville Fire Department Lt. Jeff Tennell said the building that caught fire was filled with wood and chemicals. Crews were greeted by heavy fire and black smoke when they arrived at the facility.
The building that was burning has a metal roof and many of the rooms had metal walls, so fire crews said they had more difficulty than usual in getting to the fire.
We're told 60 firefighters responded to the blaze, including all on- and off-duty Shelbyville firefighters and members of two volunteer departments, Fountaintown and Fairland.
Officials said neighbors of the facility should not be concerned that they will be affected by the fire.
The local water utility had to join crews on the scene due to low water pressure for firefighters, officials said.
Officials also said the company will continue to ship wood from this plant, and other company locations help pick up the slack in the meantime.
Culpeper says its company is one of the largest producers of pressure-treated lumber in the U.S. and Shelbyville is one of the company's five locations across the country.
Watch RTV6 and check back here for updates.
Can't see our map? Tap or click here.