Former Rep. Baron Hill considering run for Indiana governor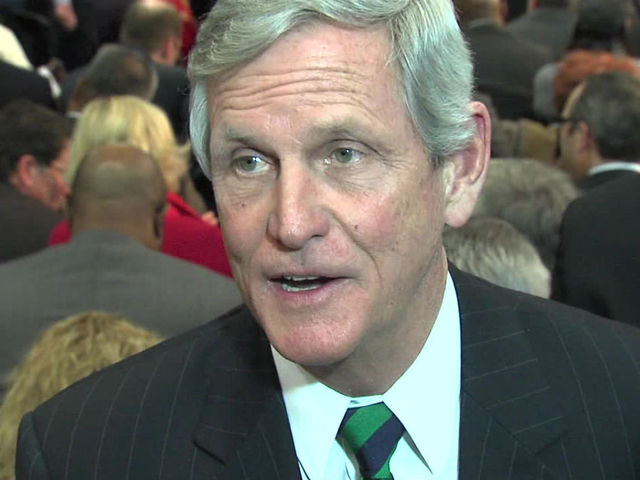 INDIANAPOLIS - A former U.S. congressman for Indiana says he may throw his hat in the ring to be the state's next governor.
Baron Hill represented Indiana's 9th congressional district as a Democrat from 1999-2005, and again from 2007-2011. On Friday, he told RTV6 reporter Katie Heinz he was mulling over a possible run for the governorship in 2016.
"I've got more people to talk to, including my family, but we'll make that decision probably in the spring, or no later than the summer," Hill said.
While in congress, the Seymour native was a member of the Blue Dog Coalition – a caucus of Democratic representatives who identify as moderates and conservatives –and also say on the energy and commerce and science and technology committees.
Hill said concerns over the state's education policies motivated him to consider a run.
"I have concerns about the direction our state is moving, especially as it relates to education," he said. "I've talked to a lot of parents and teachers and superintendents who are very concerned about the state of the education system here in Indiana."
Hill added, "I want to move Indiana in a different direction, and I think people need to have at least a choice."

Hill was among a number of prominent lawmakers at Ivy Tech Community College in Indianapolis on Friday for a visit by President Barack Obama.
Obama used the opportunity to speak about the "middle class economy," and in particular his plan to provide two free years of community college for "responsible" Americans.
"The president is making a proposal that's a no-brainer," Hill said. "It's a game-changer. One that could really benefit middle class and poor people to get an education for a lot less money than what they're paying now. So, I think this is an important program to support."
Hill last ran for re-election to the U.S. House of Representatives in 2010, when he was defeated by Republican Todd Young.