Four of Indianapolis' most romantic fall getaways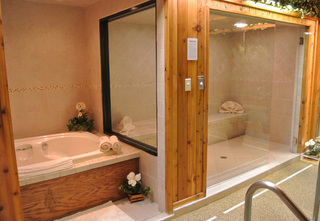 INDIANAPOLIS – Eat breakfast, get the kids off to school, work, dinner and repeat. If your day-to-day routine sounds similar, it might be time to break the cycle with a romantic fall getaway before snow hits the ground.
Where is the time and money you ask? We're talking a short but fulfilling weekend getaway that won't costs thousands of dollars.
So break out the calendar and get ready to block off an entire weekend just for you and your significant other.
We've got four weekend getaways to check out in the Indianapolis area:
A romantic view of Indy
When it comes to special packages catered to their guests, the JW Marriott in downtown Indianapolis offers a little bit of everything, including a romance package. From $219-$259 per night, the two of you can check into a guest room with a deluxe view of the city, crack open a bottle of complimentary champagne and enjoy chocolate-covered strawberries upon arrival. The deal also includes VIP service, breakfast for two at the hotel's upscale restaurant, Osteria Pronto and late check out at 1 p.m.
Sound like a plan? More information can be found at jwindy.com.
Secluded cabins
If you're really trying to get away, we mean technically out of the Indianapolis area, nothing says romance like a cabin retreat. You won't have to take a long drive or worry about brining heavy bags when you stay at Cabins & Candlelight, just 35 minutes northwest of I-465. Each cabin available features: a stone fireplace with gas-burning logs, oversized whirlpool bathtub, entertainment center, queen-size bed, oversized shower, complete kitchen, gas grill, high-pitched cathedral ceilings and more. To make your stay even easier, you may choose a steak or chicken dinner option that will be ready to bake once you arrive. The fridge will also come stocked with breakfast favorites and cookware.
Ready to book your stay? More information can be found at cabinsandcandlelight.com.
High-end romantic hotel
Stay in one the best-rated hotels in the world – The Alexander. You'll "oohh and aahh" your way through the art-filled boutique hotel in CityWay located in downtown Indy. The romance package includes deluxe accommodations in one of their guest rooms, a $50 credit toward food at Plat 99 and Market Table, or enjoy breakfast in bed by using it for in-room dining. After a long day of exploring CityWay, you won't have to worry about returning to reality early in the morning. Check out is set for 2 p.m. to let your fantasy live a little while longer.
This boutique hotel is all yours! More information at thealexander.com.
Escape to the pool suite
Escape into paradise without ever leaving the city at Sybaris Pool Suites. Sybaris Indianapolis, located on the city's northwest side offers four luxury pool suites for couples looking to spark some romance. Features include large whirlpool tubs, steam rooms, massage chairs, fireplaces and heated swimming pools, all right inside your guest room. Some rooms even come with a waterslide leading to the pool. Sybaris also offers specials that can add chocolate-covered strawberries, champagne and bath robes to your experience.
Book your escape at Sybaris.com.