Frankfort pool closed for remainder of season after teen's drowning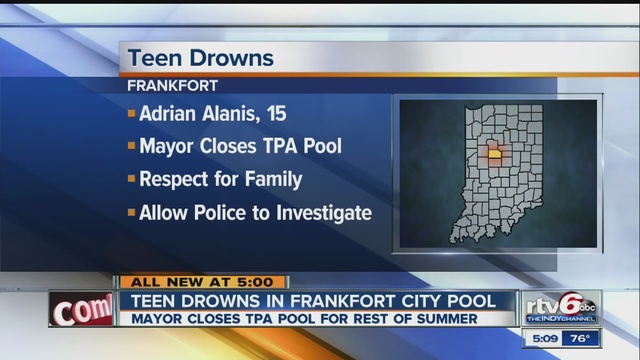 INDIANAPOLIS - The mayor of Frankfort has closed one of the city's pools early, a day after a 15-year-old boy drowned.
Adrian Alanis, 15, died Tuesday at Riley Hospital for Children, where he was taken after being found at the bottom of a diving well at the TPA Pool on Monday afternoon.
The pool is now closed for the rest of the summer
Frankfort Mayor Chris McBarnes said he's taking this step out of respect for the teen's family and to allow police to investigate, and a review of pool operations is also in the works:
In the wake of this tragedy, a comprehensive review of pool operations is being implemented, including reinforced safety measures, additional training for all lifeguards and pool staff and a review of the working mechanisms of the pool itself. These steps are being undertaken to help ensure the safe operation of the TPA Pool in the future and the safety and enjoyment of all who visit this recreational facility.
The pool was originally scheduled to close Aug. 10. All pool parties that were previously scheduled will be refunded.