Gov. Pence: 5 percent income tax cut largest in Indiana history
Pence: 'Hoosier taxpayers won a great victory'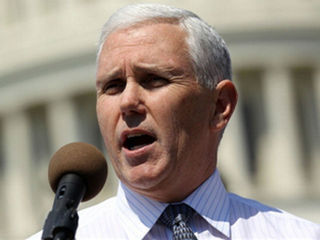 INDIANAPOLIS - Hoosiers would see their state income taxes drop slightly in 2015 and again in 2017 under a new two-year, $30 billion budget that Indiana lawmakers are set to approve on Friday.
It amounts to a 5 percent income tax cut phased in over four years – short of the 10 percent reduction over the next 14 months that Gov. Mike Pence had sought, but still enough for the Republican to declare it a "great victory."
The current 3.4 percent income tax rate would dip to 3.3 percent in 2015 and then to 3.23 percent in 2017. That would save someone earning $30,000 per year $30 annually after the first cut and $51 each year after the second cut.
It is part of a package of tax cuts that also includes repealing Indiana's inheritance tax and lowering the state's financial institutions tax, as well as continuing to phase in a cut in the corporate income tax rate that lawmakers approved two years ago.
"Today Hoosier taxpayers won a great victory. The agreement reached between our administration and legislative leaders will be the largest state tax cut in Indiana history," Pence said in a statement.
"The combination of a 5 percent individual income tax cut, inheritance tax repeal and additional tax relief for businesses is the right tax relief at the right time and will give a much needed boost to working families, small businesses and family farms."
The size of the tax cut was the political question du jour, since lawmakers have long said that they were close on the other two key budget items – education spending and state and local transportation funding.
Their budget agreement will boost K-12 education funding, which accounts for 55 percent of all state general fund spending, by 2 percent in its first year and another 1 percent in its second year. It also includes $34 million in year two for additional funding based on schools' performance.
It increases the state's funding for transportation by $215 million annually, and also sets aside $200 million per year for long-term highway projects.
Some of that money will go to local governments, and House negotiators persuaded their Senate colleagues to drop a proposal that would have required counties to adopt wheel taxes in order to get the new funding as they hashed out the final deal.
"Through hours of important discussions, we have reached a budget that reflects the goals that House Republicans set out to achieve this session," said House Speaker Brian Bosma, R-Indianapolis.
"Our budget meets our goals of prioritizing education and road funding while maintaining strong fiscal reserves. In addition we integrated a conservative concept for state budgets of paying cash for projects and reducing the state's debt burden."
The budget includes $206 million for university building projects, said Senate Appropriations Committee Chairman Luke Kenley, R-Noblesville.
And it sets aside money for the state to retire some of its outstanding debts, including $70 million in remaining bonds on the Indiana State Museum and $58 million for the Forensics and Health Sciences Lab.
It includes $20 million over the two-year period to fund school resource officers, and it boosts funding for the Indiana Department of Child Services by $35 million per year as that agency plans to revamp its operations and overhaul its much-maligned hotline.
The budget is expected to receive final votes in the House and the Senate on Friday. It should easily clear both Republican-dominated chambers.