Graffiti abatement crews target troubled areas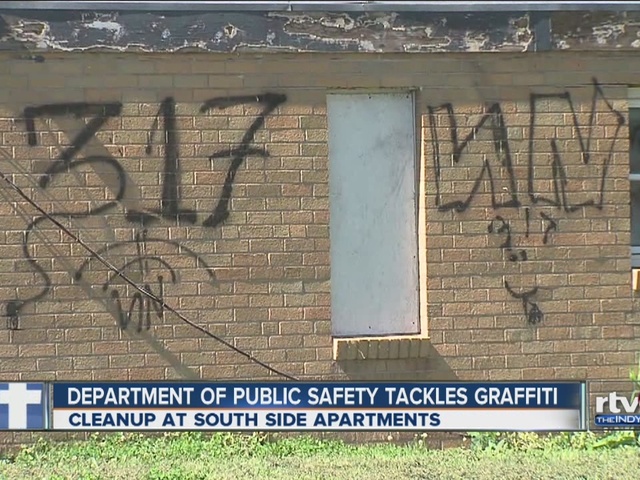 INDIANAPOLIS - Graffiti – it's an eyesore and a safety concern, according to Indianapolis officials, and now it's the target of a new abatement program.
As of April 1, property owners in Indianapolis who've left graffiti on their property could face a fine. But the city hasn't left the expense of cleaning up the offending graffiti all to property owners.
On Saturday, the Department of Public Works sent a graffiti abatement unit to remove spray paint near the Garfield Park Apartments on the south side.
Tanya, who asked that her last name not be used, lives in the area and said it's hard to miss the graffiti-laden, vacant apartment complex in the middle of her block.
"As you can see, it's boarded up. There's broken windows everywhere. I don't like my kids to see that," Tanya said. "We were sitting outside a couple weeks ago and there were some kids over there that were breaking one of the windows there in the middle."
Another area resident, Calvin Cannon, says he welcomes graffiti abatement efforts.
"I think that would be fantastic if they could do something like that, because we'll feel better about our neighborhood," Cannon said.
The cleanup effort comes weeks after the city's new ordinance to hold property owners responsible for graffiti went into effect.
City-County Councilor Jeff Miller says the new owner of the once-abandoned building in Garfield Park has welcomed the city's help in the cleanup effort.
Department of Public Safety leaders say gangs use graffiti tags to send messages, and leaving them up victimizes the entire neighborhood.
So far, 70 property owners have received notices to clean up graffiti, according to the city. For more information about how you can get help cleaning up graffiti, visit Keep Indianapolis Beautiful's Graffiti-Free Indy page.