Greenfield couple accused of ignoring dying child's condition, conspiring to lie about death
Pathologist: Looked like someone stomped on infant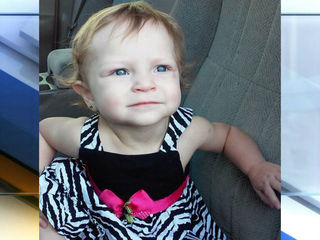 GREENFIELD, Ind. -- Matthew Wagoner walked his infant daughter past Hancock Memorial Hospital twice on the day she died, stopping to get a soda from a gas station, but not to get her medical care.
In a probable cause affidavit filed Monday, Hancock County Prosecutors allege Matthew, 31, and his wife Jessica Wagoner, 32, knew their 1-year-old daughter, named Zoey Lee Wagoner but identified in court documents as Z.W., needed to see a doctor – but they also knew the bruises on her body and still-healing fractures in her arms would draw the attention of Child Protective Services.
LATEST | Mom accused of baby's murder: 'I didn't do it'
PREVIOUS | Two arrested in death of 1-year-old Greenfield girl
Prosecutors say the couple conspired to frame her death as an accident. Matthew told police his daughter had fallen off a bed and stopped breathing. He said they'd gone on a walk to a nearby Circle K a short time earlier and she'd been fine.
Witnesses at the gas station would later tell police it looked to them like Zoey may have already been dead.
Changing stories
Jessica Wagoner told Greenfield police she and her husband Matthew hadn't lived together in more than a year. The Department of Child Services had forbidden them to see each other, she said, because Matthew was facing child molestation charges in Henry County for allegedly engaging in sexual acts with her 9-year-old daughter and her daughter's young friend.
Matthew told police he had barely seen his wife or daughter since being released from prison, save for a few trips to the home to perform maintenance work.
Their stories changed when detectives read the Wagoners the results of their daughter's autopsy.
Above: A picture of Zoey Wagoner, dated December 19, 2014.
A forensic pathologist found Zoey had suffered multiple blunt force traumatic injuries before her death. She had bruises and abrasions on her face and scalp. Her lips were bruised. Blood vessels had burst in her eyes and neck. Her liver was lacerated, and her intestines and pancreas were bruised. Old breaks in both arms were still healing.
The pathologist told police it looked like someone had stomped on the child.
Jessica told police that Matthew had been around Zoey "more than anyone knew," and that he had been staying with her in secret. Since the CPS case against him was closed in April, Matthew had seen Zoey almost every day, she said.
She told police that Matthew has a temper and had hit her before, and that she didn't trust Matthew with Zoey.
Matthew said Jessica had a temper of her own, and that she was "very aggressive and hits the children across the face."
He said he saw Jessica punch Zoey in the stomach so hard it made the child gasp for air.
On the day Zoey died, he said, Jessica smacked the child across the face and hit her with a bottle.
Matthew said he'd seen Jessica hold Zoey's mouth shut to keep her from screaming.
"The honest to God truth … Jessica beat the [expletive] out of that little girl all the time," Matthew said, according to a probable cause affidavit filed Monday.
A trail of texts
Matthew told police that Jessica and a friend had come up with the story of Zoey falling off the bed.
He was to text her at work that the child wasn't breathing. When she got the text, Jessica rushed home.
Emergency crews arrived at their house to find Jessica outside crying. Matthew was just in the doorway performing CPR on their unresponsive child.
After they were individually interviewed, police asked the Wagoners for permission to look through cellphones they recovered at the home. The couple agreed.
Investigators said text records painted a grim picture of the day Zoey died.
Above: Jessica Wagoner, 32, and Matthew Wagoner, 31
"Text messages between Matthew and Jessica reveal that Matt told Jessica about Z.W.'s continuing deteriorating medical condition during the course of the morning, including Z.W. throwing up, having additional visible injuries and looking visually not well," police wrote in a probable cause affidavit. "Text messages between Matthew and Jessica show that they were concerned about CPS becoming involved if they took Z.W. to the hospital and for that reason they did not seek medical care for Z.W. as she was dying."
Police said the couple also texted about Matthew's walk to the Circle K with their ailing daughter.
"Text messages between Matthew and Jessica show Matthew telling Jessica that he was going to the Circle K to get a pop, which took him on a path past the hospital when he knew Z.W. was not feeling well," police wrote. "He did not stop at the hospital or seek any medical care for his dying daughter at that time."
Matthew and Jessica Wagoner were arrested Friday on preliminary charges of child neglect following an autopsy on Zoey.
On Monday, prosecutors formally charged both with murder, as well as neglect of a dependent causing death.
Funeral services for Zoey Wagoner were scheduled for Wednesday at the Hinsey-Brown Funeral Service in Knightstown.
An initial hearing was scheduled for Tuesday at 9 a.m. in Hancock Superior Court 1. No attorney was listed for either defendant.
RELATED | Source: Baby Janna died in co-sleeping incident | IMPD: Landfill search suspended; nothing found | GALLERY: Massive search underway for missing baby