Greenwood to start bike rental program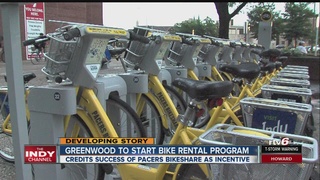 GREENWOOD, Ind. - Residents in Greenwood will soon have a new way to get around town and stay in shape as the city prepares to start a bike rental program.
Riders took more than 13,000 trips on the bikes that are part of the Indiana Pacers Bikeshare in Indianapolis in the first month of the program. Greenwood Parks and Recreation Director Rob Taggart said that success was an incentive to start a bike rental for his community.
Greenwood boasts 20 miles of paved paths, but even on sunny days, Taggart said the trails aren't crowded. He hopes that will change once residents have the chance to travel on two wheels.
"It promotes health and wellness, it gets people out and about on our trails, it makes them aware of what we have -- the connectivity, not so dependent on a vehicle that you can ride a bike," Taggart said.
The department plans to buy eight bikes and eight locks thanks to a $4,000 grant from the Johnson County Community Foundation.
Residents will have the opportunity to rent the bikes in front of the Greenwood Community Center for a half or full day.
"They'll have to come in, fill out the appropriate paperwork. We'll provide them with trail maps, recommended routes they can take," Taggart said. "We've gotta start somewhere. We feel this is a really good place to start."
City officials weren't sure what kind of bikes they will buy. They are still floating the numbers on what to charge for rentals, but they hope to have everything in place by next spring.