Danville officer saves life of overdose victim with Narcan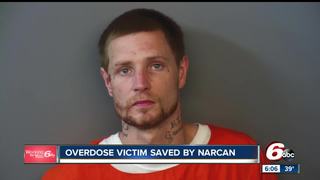 DANVILLE, Ind. – A Danville officer and two people are being credited with saving an overdose victim's life Thursday.

Danville Metropolitan Police said officer Nate Lien arrived at a McDonald's after he received reports of a person down around 2 p.m. When he arrived, he saw two people giving CPR to an unconscious 29-year-old man in a parking lot.
"When I approached him he was blue," said Jessica Fischer. "He was not breathing. I couldn't get a pulse initially. As soon as the nurse got there, she got one. I was concerned."

Once on scene, Lien administered Narcan to the man, later identified as Mark Dewayne Smith, through his nostrils. Within seconds, Smith began breathing and his pulse returned, police said. He was taken to Hendricks Regional Hospital by medical personnel. Narcan is used by first responders as an antidote for people who have overdosed.
"It is a good feeling knowing you can help somebody out like that," said Lien."A small thing like this can take someone from near death, or certain death to awake and breathing again, or at least having a pulse and breathing again."

Detectives found the overdose was the result of snorting opioid medication. Smith had a pass from the work release center, and was supposed to be out looking for a job, detectives said.

"We would also like to thank the Danville citizens who stepped in to help this male, despite the fact that they did not know who he was. The care they provided prior to police and fire intervention undoubtedly helped save this man's life," said officers with the Danville Police Department.

This case was the 12th overdose Danville officers have responded to in 2017.

All Danville police officers carry Narcan, and have been trained to use it, according to department officials.

PREVIOUS | US drug overdose deaths reach a new record high | At least 13 people overdosed in Indianapolis Monday. It was an average day for Indy EMS
Top Trending Videos