Woman finds mother dead inside Brownsburg home, wheelchair-bound father lying on floor nearby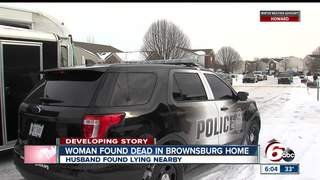 BROWNSBURG, Ind. -- A 74-year-old woman was found dead on her bedroom floor early Sunday morning and police believe she could have been there for more than 12 hours.
Officers were called to the home in the 800 block of Stonehenge Drive just before 9 a.m. for a report of a person shot after a woman said she had gone to check on her parents and found her mother, Alice Wright, dead on the bedroom floor. An autopsy was completed Monday but results are not being released at this time, according to Brownsburg police.
Based on witness interviews and evidence processed from the scene, detectives believe Alice had been deceased for at least 12 hours or more.
The woman told police her wheelchair-bound father, Kerney Wright, had been lying on the floor in another room when she showed up. Kerney was taken to Hendricks Regional Hospital to be checked out for health issued unrelated to the incident.
Detectives say there were no signs of forced entry to the residence and it does not appear anything was taken from the home.
The incident remains under investigation by the Brownsburg Police Department and detectives have not said whether they are looking for any suspects at this time.
MORE TOP STORIES | Stranger donates car to mother after carjacking suspect crashes into her | Photos: The faces of 2017's homicide victims | Family desperately searching for Indianapolis woman missing since Dec. 15 | Victim in fatal wrong-way crash on I-465 identified | HOME TOUR: Amazing contemporary in Herron Morton for $850,000