Hidden cash phenomenon sweeps Indianapolis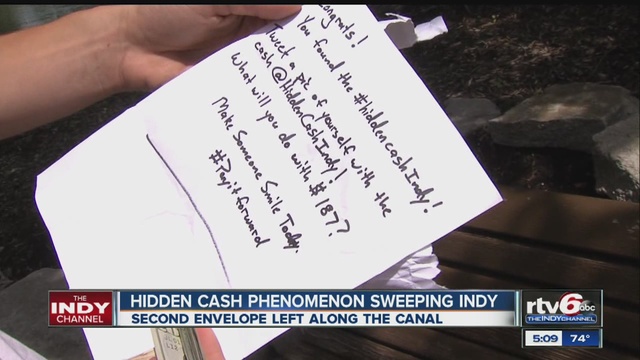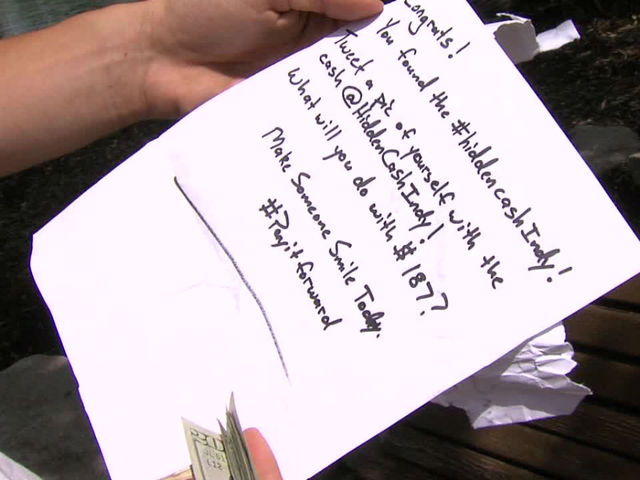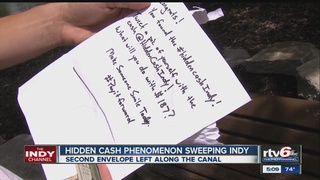 INDIANAPOLIS - It's a phenomenon that has been sweeping the nation -- people hiding cash and tweeting clues about its location.
The social media phenomenon hit Indianapolis on Wednesday when an envelope filled with $100 was left at the Indiana State Soldiers and Sailors Monument.
And it happened again Thursday. Whoever is behind the Twitter handle @HiddenCashIndy tweeted another clue around noon.
Perfect day to hang out by the canal...more cash can be found here;) #hiddencashindy #payitforward pic.twitter.com/ihHeNSXzKp

— Hidden Cash Indy (@HiddenCashIndy) June 5, 2014
Within minutes the canal was flooded with treasure hunters who were conspicuously trying to remain inconspicuous.
Nick Salupo was the first to break the code and find the $187 tucked into the envelope.
There was also a note that asked the winner to share what he or she will do with the money to pay it forward.
Well, that didn't last long...$187 goes to @RunTheNap! Congrats! #hiddencashindy pic.twitter.com/21ZkTH0rDt

— Hidden Cash Indy (@HiddenCashIndy) June 5, 2014
Nick said he was going to head to Taylor's bakery on Friday to buy a round of donuts for everyone in the store with his earnings.