Homeland security officials fail to identify substance found at Riley Hospital for Children
7 people sickened in emergency room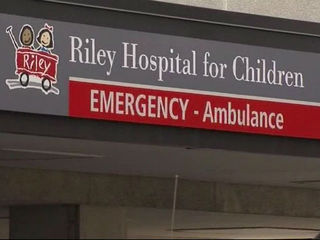 INDIANAPOLIS - Indianapolis Homeland Security officials awaited lab results Friday after the emergency room at Riley Hospital for Children was evacuated.
Seven people became ill after a strong odor overtook the ER just after noon on Thursday.
Initial reports claimed that the odor came from a woman's purse, but officials did not find any spills or liquid.
"Although we are disappointed that we have not found a conclusion to exactly what caused this, obviously, we are reassured that testing at this point has been negative and that we've not seen anyone come down with symptoms in well over 12 hours," Riley CEO Dr. Jeff Sperring said.
Virginia Caine with the Marion County Health Department said experts used the most sophisticated equipment looking for signs of bioterrorism or noxious gases, but each test came back negative.
As of Friday evening, two of the sickened adults were still in the hospital, including the woman who brought the substance in.
From the beginning, authorities have said there was no spill, no liquid, so there was no primary source.
Investigators are left with only secondary sources including the purse itself and articles inside the purse.
"There was never a liquid that we were shown or found or anybody said that there was," Coons said. "So it's just more like clothing and articles that we're looking at."
Caine said that's what made the investigation particularly challenging.
"If you just look at normal air flow in an environment, when you are doing sampling after 3.5 hours, you have opportunity for whatever chemical or noxious gas to dissipate in the air," Caine said.
Indianapolis Metro Police Department officers said they aren't ruling out criminal activity.
Sperring said operations within Riley's ER have returned to normal.