Homeless since age 11, Pike student gets diploma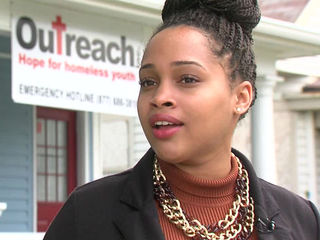 INDIANAPOLIS - Syretha Shirley was just 6 months old when her mother abandoned her. She was homeless from the time she was 11 years old. And this week, she graduated high school.
"My mother pretty much just dropped me off at my grandmother's house and said she'd be back and never came back for me," Shirley said.
Despite her rough beginning, Shirley called the years with her grandmother the happiest time in her life.
"That's when things were great," she said.
But when her grandmother developed Alzheimer's disease, Shirley had nowhere to go and was left homeless at the age of 11.
"When you think of homeless, you think of someone lying on the ground or under a bridge or something like that," Shirley said. "But there's so many levels to homelessness. Mine, I like to say 'unaccompanied youth,' because it's just a prettier word."
No matter what pretty word she called it, though, her concerns were far from attractive.
"Where am I going to sleep," Shirley remembered thinking. "Am I going to have something to eat?"
And being a student presented its own set of challenges. Shirley said she attended eight or nine schools in two different states while living in 11 different homes.
"I try to keep all the IDs of the schools I've been to because it's hard to keep up sometimes," Shirley said.
Thanks to the help of Outreach Inc.'s G.O.A.L. program – which helps homeless kids across Indianapolis stay in school – Shirley graduated this week from Pike High School. And though she thought about dropping out many times, Shirley, now 18, knows her new diploma is the key to a brighter future.
"If I do not graduate and if I give up now, I will have to depend on other people. And that's the one thing I hate the most, is depending on other people," Shirley said. "Because that's something I've had to do my whole life. That's something I was forced to do, asking people, 'Can I stay with you? Can I please, please this and that.' So going through that made me stronger and made me want to do for myself. And in order to do that, you have to graduate. You have to go to college."
Shirley is one of 25 students who graduated high school or earned their GED this year through Outreach's G.O.A.L. program. She received a full ride scholarship to Indiana State University, where she plans to pursue her passions of social work and music.