Hoosier priest missing in Greece could be back in U.S. Wednesday
Priest's dad says his son is at airport in Germany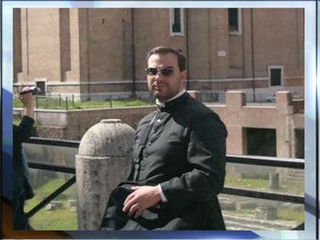 INDIANAPOLIS - A Hoosier family is anxiously waiting to hear their loved one is on a plane heading for the United States.
Father Christiaan Kappes and his interpreter vanished in Athens, Greece about a week ago, days after Kappes told others he feared for his safety.
His family feared he was dead until they received a phone call from him a few days ago. Tuesday evening, his father, Virgil Kappes, talked to RTV6 and said his son is at the airport in Munich, Germany after fleeing Greece.
"He tried to get out on Norwegian Airlines yesterday. He tried to use my card but (there) wasn't enough time so he has to fly out tomorrow," explained Virgil.
Virgil said his son will not leave the terminal and he said he still has many questions surrounding his son's ordeal.
"He could be paranoid too. You don't know. You're chased out of Greece, you're on the run. Someone shows up you think was chasing you and disappears. You don't know what's going on," he said referring to his son's situation.
Virgil said his family fears something will prevent Christiaan from getting a flight back to America. He said they are sending someone from the Munich Archdiocese to the Munich airport to check on Kappes and his interpreter.
That might not be the only time Christiaan is examined.
"If he gets home, he's going to talk to me for awhile. Then I want him to go to the hospital to get checked out, " Virgil stated.
As for the interpreter, Virgil explained she is one of three Kappes has to learn the language, in a country he's been living in for three years.
"She would take him into museums, and they would talk about things. They would take him and go to grocery stores, meat markets," Virgil explained.
Virgil said his son told him he fled Greece because of a dispute his interpreter is having with her family over money and property.