Housing Authority inspects Keystone North apartments, finds numerous violations
Management has 24 hours to correct violations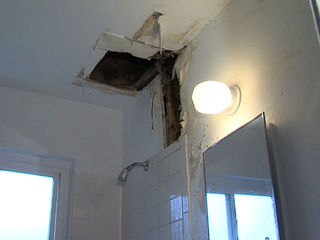 INDIANAPOLIS - An RTV6 report on conditions at Keystone North apartments prompted the Indianapolis Housing Authority to inspect the residences Friday.
The Indianapolis Housing Authority helps pay the rent at 10 percent of the more than 300 units at the Keystone North apartments.
Housing Authority inspectors failed all 11 apartments checked during the sweep.
Conditions were so bad in one unit that it has been terminated from the rent assistance program.
In apartment after apartment, the litany of complaints remained the same. In Christine Cummings' unit, the tub has been stopped up for a month. The walls are peeling and the toilet in the apartment upstairs leaks into her apartment.
"This is the problem. You see all that yellow? That's pee. And then it started leaking brown," Cummings said.
Even worse than the leaky plumbing, residents say, is the seeming indifference and delays by management to fix problems that heavily impact their quality of life.
"All they did was take this board down and let it dry out and then they put it back up again. And there's mold and mildew all up under that," a resident told the inspector.
Inspectors also found large mold spores and fungus growing on apartment walls in the common areas of the buildings.
"In the majority of the apartments, it's mold, it's gnats, it's rats and mice. It's just not livable," one resident told RTV6.
And with all of the problems inside the apartments, residents must also endure the crime outside. In six months, Metro police have responded to more than 700 trouble calls at Keystone North.
"I don't let my kids play outside because every other day I hear gunshots," said another resident of Keystone North.
The Housing Authority is tracking the serious safety concerns uncovered by inspectors.
"He's going over that report to decide if we should issue a notice of abatement of rent payments to Keystone North."
Management will have 24 hours to correct the violations that directly impact health and safety of residents. If they don't, the Housing Authority will withhold the rent.