'Ice bucket challenge' personal for former IFD chief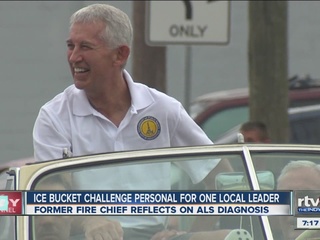 INDIANAPOLIS - Donations to the ALS Association as part of the "Ice Bucket Challenge" have now topped $100 million – and for one local Indianapolis leader, the cause is a personal one.
Former Indianapolis Fire Chief Brian Sanford served as grand marshal this weekend for the city's official Labor Day parade, "The Miracle Mile."
After a diagnosis of ALS three years ago, Sanford said everyday day for him is a miracle.
"I don't dwell on it, but at the same time it kind of sticks in the back of your mind," Sanford said. "There are faster-moving versions of it. I'm unfortunate to have the disease, but fortunate my progression is slower than some."
Sanford served as the Indianapolis Fire Department's chief for six years before stepping down from the job this spring. It was a difficult decision, Sanford said.
"I knew it was time," he said. "I have always been a lead-by-example person as far as doing the job, so it was getting to the point with ALS that I could no longer put on the fire gear and perform on the scene effectively."
The disease, commonly known as Lou Gehrig's disease, is progressive and incurable. It affects nerve cells in the brain and spinal cord, eventually causing people to lose the ability to control muscle movement.
"My left hand doesn't work how it used to. My left leg is a little affected. The right hand is getting a little affected … but, you know, I've been blessed," Sanford said. "I'll continue to stay positive and work through it."
Sanford said his brother also has the disease, which doctors say is very rare.
On Friday, Fire Chief Ernest Malone led an ice bucket challenge in Sanford's honor. Firefighters at Station 7 dumped cold water over their heads to raise awareness of the disease.
"It's something that as a department we're concerned about, but certainly when it hit our chief, one of our family members, it became that much more right in your face," Malone said. "This is a very serious illness, but he's a very strong man, and we're going to continue to pray for him and take care of him."
Sanford is hopeful that all of the money raised for research will serve future generations well.
In the meantime, he said he's enjoying working closely with his old department in his new role as chief of staff to Public Safety Director Troy Riggs.