100 firefighters battle massive blaze on city's south side
Damage estimated at $2M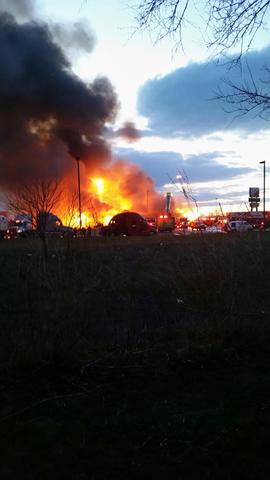 INDIANAPOLIS -- About 100 firefighters fought a massive fire on the city's south side Sunday night.
Crews were called out to the Flying J plaza at 1720 W. Thompson Rd. shortly after 7:30 p.m.
The building houses the Flying J and a Denny's Restaurant.
Truckers spotted the fire and told employees inside the Denny's.
Fire officials say the Denny's manager and two employees ran outside with a fire extinguisher but they weren't able to put the fire out, so they ran inside and told everyone to get out.
There were about 40 people inside when the fire broke out. No one was hurt.
Thompson Rd Fire upgraded to 3rd Alarm with companies attacking heavy fire from all sides. #AerialOps #Handlines pic.twitter.com/OtgV3S3BeX

— IFD NEWS (@IFD_NEWS) March 21, 2016
Thirty-two units from IFD, seven from Decatur Township, and one each from Wayne and Beech Grove Townships helped bring the fire under control around 9:30 p.m.
Damage is estimated at $2 million.
No word on a cause but witnesses told investigators they saw fire outside and that high winds pushed it toward the building.
Thompson Rd Second Alarm #DefensiveAttack Only Heavy Fire pic.twitter.com/tDyykiU5ap

— IFD NEWS (@IFD_NEWS) March 21, 2016