IMPD: Violent crime, property crimes down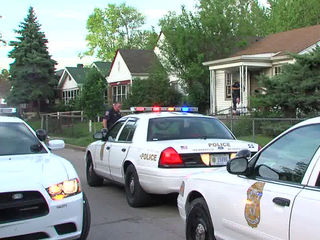 INDIANAPOLIS - While the number of homicides across Indianapolis are concerning and can't be ignored, there is some good news within those statistics. Overall crime in the city during the first quarter has dropped by more than 12 percent, police said.
That is the kind of number that has some feeling optimistic, but it's not enough for the victims of those crimes.
For the second time in less than three weeks, 78-year-old Esther Parton has experienced the heartbreak that burglary victims suffer.
During the first break-in, the thieves took computers and electronics. The second time they took her TV and left her afraid and frustrated.
"I don't know what I'm going to do. I grew up in a neighborhood where you didn't have to lock your doors. I'm going to have to move back to Kentucky I guess," Parton said.
This week alone, officers with the Indianapolis Metropolitan Police Department investigated a triple murder on the city's northwest side.
On Friday, police were investigating two separate robberies during which both victims were shot. Those are the kind of incidents that lead citizens to believe the city's crime rate is rising.
"It's getting really bad. With all the crimes and the shootings that you hear on the news, it's getting a little scary," east-side resident Janetta Marsh said.
According to the IMPD crime trend through the first quarter of 2014, overall crime has dropped. While homicides are on the rise, rapes and serious assaults have experienced big declines, leading to more than a three-percent drop in violent crime.
Property crimes, compared to the same first quarter last year, have declined by more than 13 percent, led by a 26-percent drop in the burglary rate.
Overall crime in Indianapolis is down by 12 percent, a number that is still a tough sell for some, like recent crime victim Robert Randall.
"It's probably the same. I don't think it's changed a whole lot. We're going to have this stuff as long as we have kids that don't have jobs or nothing to do." Randall said.
The near 26-percent decline in burglaries is of little consequence neither to Parton, nor to the 8,947 other people who reported crimes to police in the first quarter of the year.
IMPD announced plans to hire an additional 60 police officers in June and another 20 officers before the end of the year.
Follow Jack Rinehart on Twitter: @jackrinehart6