Indiana reports 3rd meningitis case tied to outbreak
Pain steroid could contain fungal meningitis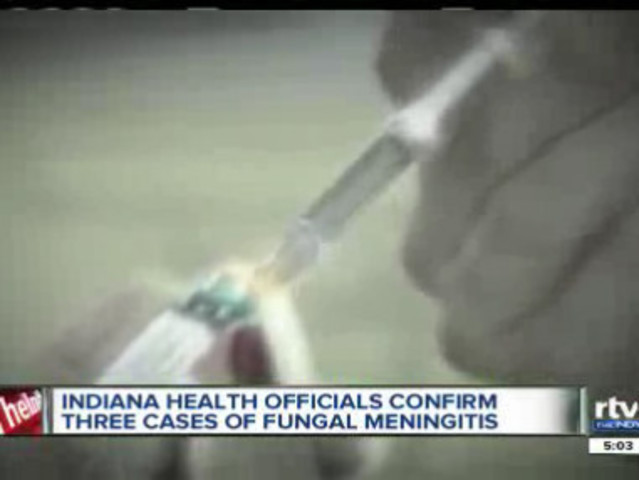 INDIANAPOLIS - The CEO of a northern Indiana health clinic said three of its patients have tested positive for fungal meningitis after receiving a recalled back pain medication that's been linked to a deadly nationwide outbreak.
OSMC Surgery Center CEO Don Hammond said Friday that three of the Elkhart clinic's patients have been hospitalized with the rare illness.

Six Indiana health facilities received batches of the medication that was recently recalled by a Massachusetts manufacturer. The other clinics are in Evansville, Fort Wayne, South Bend, Terre Haute and Columbus.

The clinics are contacting more than 1,000 patients who received injections.
Dr. Drew Robertson at Wellspring Pain Solutions in Columbus said staff has been addressing concerns all day.
"We are very busy right now," Robertson said. "We are contacting all of our patients by phone and by mail... all the ones we suspect might have been exposed. And we intend to see every one of them in the next couple of weeks."
The state's epidemiologist Pam Pontones said more clinics could be added to the list.
"We are actively conducting surveillance to try and determine any other cases that we may have," Pontones said.
Early symptoms -- headache, fever, stiff neck and sensitivity to light -- can take up to a month to develop.
"Some patients in other states have developed strokelike symptoms," said Pontones. "So, it's important if you develop anything unusual you contact your health provider right away."