Ind. mom delivers rare, identical triplet girls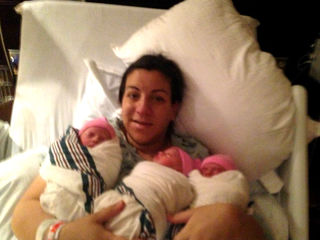 GREENFIELD, Ind. -- A Greenfield mom welcomed identical triplets into the world Thursday night, the result of a one-in-a-million pregnancy.
Ashley Alexander and her husband Matt conceived the triplets naturally and she carried the girls 36 weeks.
PREVIOUS | Greenfield couple expecting rare identical triplets
Sophia Mae and Alexis Kae weighed in at more than 4 pounds, while Ella Shae weighs 5 pounds.
"It's just an awesome blessing for God to entrust us with three more little blessings all at once," Ashley said.
The family said mom and her girls are happy and healthy.
Watch RTV6 and refresh this page for updates.