Indiana priest Rev. Christiaan Kappes missing in Greece found safe, family says
Few details released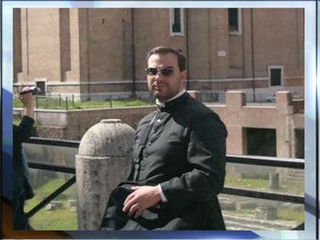 INDIANAPOLIS - A Beech Grove priest who had been reported missing in Greece has been found safe, his family said Monday.
The Rev. Christiaan Kappes, 36, was last heard from last week after a frantic phone call to his parents, in which he said he thought his life and that of his interpreter were in danger over a dispute regarding the translator's inheritance, the family said.
The priest's father, Virgil Kappes, told RTV6 that he doesn't know the circumstances of what happened, but that his son is safe and out of Greece.
"He said, 'Dad, I'm safe,'" Virgil Kappes said. "Right now, I just want to sit down and gather my thoughts. We're all here together, wiping tears away."
"We're just so relieved just to know that he was alive, that they're both alive, that was a major blessing," said the priest's mother, Jenny Kappes.
The U.S. State Department confirmed that Kappes had visited the American embassy in Athens the day he was reported missing.
Father William Williams, the pastor of the church where a prayer service was held for the pair's safe return, said he will be more comfortable when Kappes is back on American soil.
"You hate to think the worst. You always want to think the best, and trusting in God's providence is always going to be the answer," he said.
"The Archdiocese of Indianapolis was elated to learn from Father Christiaan Kappes' family that Father Kappes is alive and safe," the office said in a statement. "We are hopeful that he soon will be returning to the United States. We thank everyone for their prayers and support for Father Kappes and ask that people continue to pray for his safe return to Indiana."
Watch RTV6 and refresh this page for updates.