Indianapolis man wrongly thrown out of church, arrested after complaining, Court of Appeals rules
Paul R. Semenick convicted of criminal trespass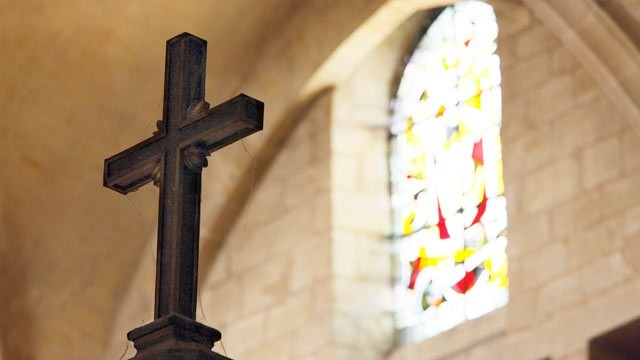 INDIANAPOLIS - An Indianapolis man was wrongly thrown out of church and arrested after complaining that others were being too loud, the Indiana Court of Appeals has ruled.
Paul R. Semenick, a longtime member of Lakeview Christian Church in Indianapolis, was convicted of criminal trespass, a misdemeanor, in October 2011.
The original incident happened Sept. 5, 2010, when Semenick approached a volunteer greeter during a musical portion of Sunday service to complain that he was speaking too loudly.
The greeter sought out Sgt. John Dierdoff, an off-duty police officer with the town of Cleremont police officer, who was directing traffic at the church.
Dierdoff then confronted Semenick in the sanctuary, asking him to leave. When he refused, he told him he would be forcibly removed, according to the ruling.
Semenick went outside and told the head greeter, "You need to tell your rent-a-cops they can't do nothing to me."
He was then arrested on preliminary charges of criminal trespass and disorderly conduct.
At trial, Semenick was convicted of criminal trespass and acquitted of disorderly conduct. He was sentenced to two days in jail and ordered to stay away from the church.
The Indiana Court of Appeals on Tuesday overturned Semenick's conviction on ground that it does not live up to the legal definition of criminal trespass, which is "not having a contractual interest in the property, knowingly or intentionally refusing to leave the real property of another person after having been asked to leave by the other person of that person's agent."
The court ruled that Semenick had the right to be in the church and that Dierdoff acted outside of his duties by removed and arresting him.
"There is uncontroverted testimony that Semenick was a church member and an absence of evidence that Sgt. Dierdoff had authority to demand, without more, that a worshiper leave the sanctuary during Sunday services," the ruling read. "Effectively, he intervened between parishioners who presumably had equal interests in the premises, and chose who would stay and who would go."
The court noted that the church service continued uninterrupted, despite words exchanged between Semenick, the volunteer greeter and Dierdoff.
"There is evidence of an unpleasant demeanor by several in attendance on that fateful morning, but an unpleasant demeanor does not always equate to criminality," the ruling read.
A dissenting judge in the case argued that Semenick forfeited his rights to be at the church when he caused a disruption.
"Even if Mr. Semenick had some limited right to be on the church premises, I believe his disruptive behavior terminated that limited right," he wrote. "I am also of the opinion that there was sufficient evidence demonstrating that Mr. Semenick refused to leave the church premises after being asked to do so by Sgt. Dierdorf."
A message left with the church was not immediately returned Tuesday.