Indianapolis uses computer game to teach kids about law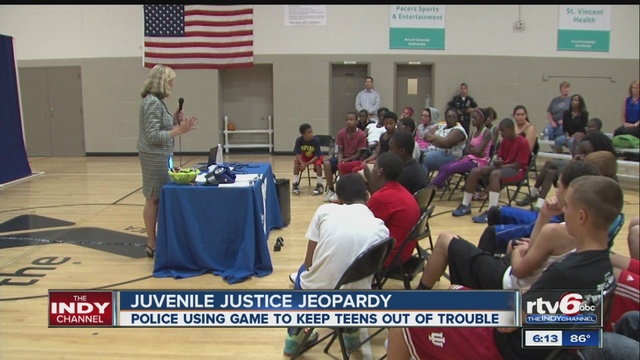 INDIANAPOLIS - Indianapolis police are trying out an interactive computer game based on television's "Jeopardy!" to try to prevent teenagers from falling into lives of crime.
Indianapolis Metropolitan Police Department spokesman Lt. Chris Bailey said teens attended Tuesday's presentation of the Juvenile Justice Jeopardy game that was held at a local YMCA branch.
The game developed by Cambridge, Massachusetts-based Strategies for Youth teaches youngsters about the law, the consequences of their actions and how to interact with police.
"We really don't educate them on Indiana juvenile law nor the consequences. This game gives us that opportunity," IMPD Cmdr. James Waters said.
The nonprofit group's executive director, Lisa Thurau, says the game takes 90 minutes to play and youngsters are asked 26 questions to test their knowledge.
Two businessmen paid the $15,000 cost of the game and its licenses so it can be used by the Indianapolis Metropolitan Police Department and the Indy Public Safety Foundation.
IMPD hopes to bring Juvenile Justice Jeopardy to kids and their parents across the city. Police want to reach out to kids instead of having to arrest them.
"It is important for us to get out here to reach them, to interact with them, to show them how it makes a difference in their life in a positive way because the decisions that they make can make all the difference on whether or not they get a good job or whether or not they end up behind bars," IMPD Officer Candy Perry said.
According to government data, 40 percent of juvenile arrests stem from obstruction of justice, disorderly conduct and resisting arrest.