Help Indianapolis honor James O'Donnell, a local World War II hero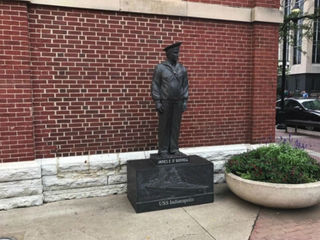 INDIANAPOLIS -- Indianapolis City Market is raising money to help honor a local World War II hero.
A statue of Jimmy O'Donnell stands at City Market, but the organization wants to erect a plaque to commemorate what he did for the city and country.
O'Donnell, an Indy native, was on the USS Indianapolis during World War II. He was asleep on the main deck when the torpedoes hit the ship.
"You woke up and looked forward and all you could see was a big sheet of flame," O'Donnell said in an archive interview. "And the first torpedo took the bow off. The second hit a magazine and ruptured everything."
O'Donnell was one of 900 sailors who made it into the water alive.
For five days, the survivors swam in shark-infested waters before help came.
"They'd say 'There's a ship over there,' and they'd swim away and you'd never see them again," he said. "'There's an island over there.' They'd swim away and you'd never see them again. 'I'm going down to the mess hall to get a drink. They'd dive underwater and swallow a bunch of saltwater. In about four hours, they're gone."
After all the rescues were finished, just 317 people were alive, O'Donnell was the only man from Indianapolis to live.
USS INDIANAPOLIS | From 'Lucky Indy' to one of the worst naval disasters in history
After the war, he returned home and joined the Indianapolis Fire Department, where he worked until he retired as a lieutenant 35 years later.
City Market is trying to raise $5,500 for a plaque to tell O'Donnell's story to those who don't know his heroism. As of Thursday morning, more than $1,000 has been raised by 24 people on Kickstarter.
City Market is also partnering with Indianapolis Professional Firefighters Union Local 416 for a dinner to raise funds for the plaque. The dinner will cost $10, and take place on Oct. 19 at 5 p.m. For more information on the dinner, call 317-634-9266.
MORE HOOSIER HISTORY | 'Do something, and then worry about it.' Resurrecting the Rivoli Theatre | How and when payphones disappeared in Indianapolis | 16 years ago: Market Square Arena imploded to cheers | Historic Indianapolis marker destroyed, fund established for replacement | Message in a bottle found in Indianapolis 85 years later leads to life discoveries
Top Trending Videos