Employee shot during attempted robbery on Indianapolis' northwest side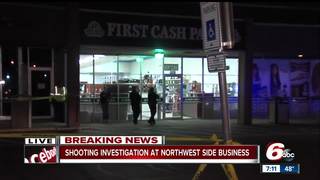 INDIANAPOLIS – An employee at a pawn shop was shot on Indy's northwest side Monday night.

Indianapolis Metropolitan Police said the shooting happened after three males wearing masks attempted to rob First Cash Pawn near 71st Street and Michigan Road. The employee was found shot in front of the next door business around 6:15 p.m., officers said.

Suspects were seen running east of the store.

The employee was rushed to St. Vincent Hospital and listed in critical condition.

There were several witnesses inside the store, including children, when the shooting happened, detectives said.
Paul Hyde Jr, whose friend owns a barber shop in the same plaza as the shooting, said he wants the violence to end.
"I just want to have peace - peace in the neighborhoods - peace everywhere," said Hyde. "It makes it hit closer to home - especially with my friend being in the shop here for many years."
Manager of First Cash Pawn said he plans to check on the employee and look at the surveillance video for suspect information.
Police aren't sure if the suspects got away with any valuables.

If you have any information on this case, call Crime Stoppers at (317) 262-TIPS.
More News from Indy's NW Side
Top Trending Videos