Hoosiers react to Dick's Sporting Goods decision to stop sale of assault rifles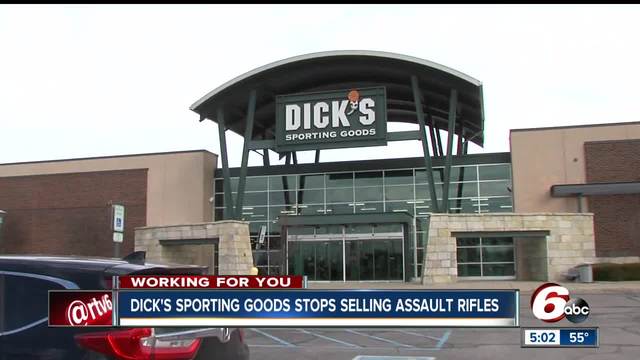 Dick's Sporting Goods, the nation's largest sporting goods retailer, will stop selling assault-style weapons like the one used in the Parkland, Florida, high school shooting.
The company said it will also raise the minimum age for all gun sales to 21. Dick's will not sell high-capacity magazines that allow shooters to fire far more rounds than traditional weapons without reloading, as well as other accessories used with weapons similar to the AR-15.
At Dick's off 86th Street on Indianapolis' northside, RTV6 found opinions about the decision to stop selling assault-style weapons were mixed.
Angie Luper has purchased a rifle and other guns from Dick's.
Luper says she'll probably go to Cabela's or another store now to buy guns.
Laura Ricketts, who is a parent, says she applauds Dick's decision.
The Parkland shooter, Nikolas Cruz, bought a gun at Dick's. The company said he did not buy the AR-15 that he used in the school shooting there.
The company stopped selling those military-style semiautomatic weapons in its Dick's-branded stores after the Sandy Hook elementary school shooting in 2012, but it continued to sell those weapons at its 35 Field and Stream stores.
Now it will pull those weapons from all of its stores.
One man RTV6 spoke with says that may not be enough
Walmart, the nation's largest retailer and a major seller of firearms, announced it would stop selling the military-style semiautomatic weapons in August 2015.
Late Wednesday, Walmart announced it was raising the minimum age to purchase a firearm from 18 to 21.
There have been widespread calls for tougher gun control measures in the week since the school shooting.
We at DICK'S Sporting Goods are deeply disturbed and saddened by the tragic events in Parkland. Our thoughts and prayers are with all of the victims and their loved ones. https://t.co/J4OcB6XJnu pic.twitter.com/WmT50BO7mx

— DICK'S Sporting Goods (@DICKS) February 28, 2018
But thoughts and prayers are not enough. We have to help solve the problem that's in front of us. Gun violence is an epidemic that's taking the lives of too many people, including the brightest hope for the future of America - our kids. https://t.co/J4OcB6XJnu pic.twitter.com/6VoKwJe8tH

— DICK'S Sporting Goods (@DICKS) February 28, 2018
We deeply believe that this country's most precious gift is our children. They are our future. We must keep them safe. Beginning today, DICK'S Sporting Goods is committed to the following: https://t.co/J4OcB6XJnu pic.twitter.com/BaTJ9LaCYe

— DICK'S Sporting Goods (@DICKS) February 28, 2018
At the same time, we implore our elected officials to enact common sense gun reform and pass the following regulations: https://t.co/J4OcB6XJnu pic.twitter.com/VUuFKkyk6c

— DICK'S Sporting Goods (@DICKS) February 28, 2018