Hoosiers travel to Kentucky to view solar eclipse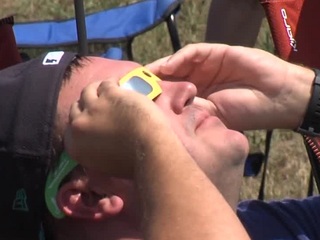 PRINCETON, Ky. – Hundreds of people from Indiana boarded a bus and headed to Kentucky to view the solar eclipse.
The Link Observatory in Martinsville organized the trip to Princeton, Kentucky that began with one bus but quickly turned into five busses.
"It was fantastic," said Mary King. "It was even better than I thought it could ever be."
For more than 2-and-a-half minutes, people watched the sun and moon cross.
"I was a child of the space race," said Greg McCauley. "I decided I had to work for NASA and that's proof that a small-town kid that dreams big, works really hard, never gives up and follows a plan can do anything they want to do."
PHOTOS | The best of the 2017 solar eclipse | Stylin' for the 2017 solar eclipse