Indiana farmers fear fallout from proposed tariffs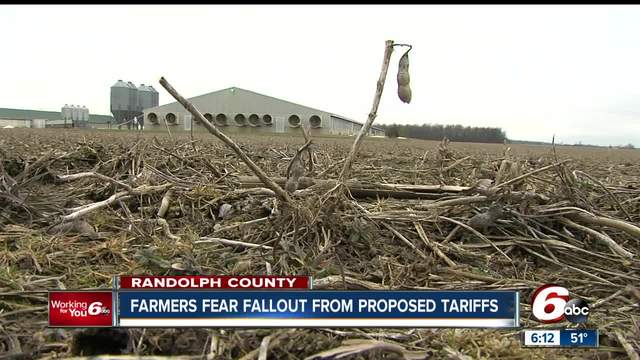 INDIANAPOLIS -- Indiana farmers say the potential fallout from proposed tariffs could be devastating to their bottom line after officials in China have indicated that they could respond to those tariffs by imposing taxes of their own on U.S. exports including pork and soybeans.
Those exports could drive down prices and demand for soybeans - a more than $31 billion industry in Indiana - which is the fourth largest producer of the plant.
About one-third of all soybeans grown in Indiana are exported to China.
Kyle Anderson, an economist with the Kelley School of Business, says any response to the proposed tariff's could have a significant impact on Indiana's farmers.
"The issue is other countries know that we export a lot of agricultural goods, and so in a trade war, you want to hit the other country where it hurts," said Anderson. "That's where other countries are likely to target us."
For farmers like Aaron Chalfant, its a fear of shrinking profits amid already tight margins.
"We produce more than what we consume here, so exports are huge when it comes to our commodities. We feed a lot more people out there than just American consumers. So there's a lot of companies that rely on us," said Chalfant. "With the tight margins already, and the potential of it getting tighter, something's gotta give here."
MORE TOP STORIES | Woman overdoses on heroin in bathroom at Riley Hospital for Children | Co-defendant in federal Grundy case to plead guilty to trafficking in heroin, meth | New Palestine mom says popular hair product left family's hair falling out in clumps | Man fills up gas tank, only to find water | 22-year-old arrested in connection with St. Patrick's Day murder
Top Trending Videos