IndyGo Red Line construction officially underway: What to expect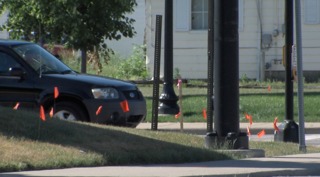 INDIANAPOLIS -- As of Monday, construction on the long-anticipated IndyGo Red Line is officially underway.
Last week, crews began increasing signage and shifting traffic patterns on Shelby Street between Hanna Avenue and Prospect Street.
Monday, work began on Shelby Street between Troy Avenue and Hanna Avenue. Cones are in place to shift traffic but the good news is, there will be no road closure -- just restrictions and shifts along the construction route.
Construction includes roadway and sidewalk improvements.
This is all part of the 13-Mile IndyGo Red Line project, stretching from Broad Ripple to the University of Indianapolis. The goal is to increase local transit service by 70 percent.
Here is a three week look ahead on plans:
Shelby Street from Hanna Avenue to Troy Avenue: Roadway and sidewalk improvements from Monday, June 4 through Friday, June 15.
Shelby Street from Troy Avenue to Raymond Street: Roadway and sidewalk improvements from Monday, June 11 through Friday, June 22.
Shelby Street from Raymond Street to Prospect Street: roadway and sidewalk improvements from Monday, June 18 through July 3.
MORE TOP STORIES | Teacher, student wounded when another student opened fire at Noblesville middle school | Science teacher Jason Seaman being called a hero for stopping school shooter | Noblesville teacher shot 3 times while stopping shooter released from the hospital | Family of girl wounded in Noblesville school shooting thanks everyone for prayers | Man found dead in tent in parking lot at Indianapolis Motor Speedway identified
Top Trending Videos