North Central students use language to fight poverty
Reading classics in Latin to benefit local charity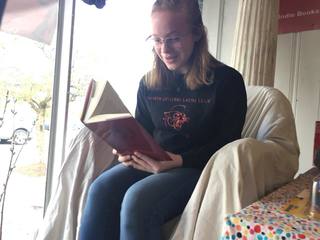 INDIANAPOLIS -- A group of Latin students from North Central High School continues its efforts to raise awareness and money to fight poverty in Indianapolis. On Friday and Saturday, current North Central High School Latin students and alumni teamed up for the 10th anniversary of their first Reading The War On Poverty, reading the "Aeneid" of Vergil, not in English translation, but in Latin.
The project was launched in 2009 by North Central Latin students. That year, they read aloud the entire "Iliad." For nine years since, students have met for one Saturday in April to read aloud the entirety of one of the Greco-Roman epics at Kids Ink Bookstore.
Through their annual readings, students in the Latin program raise more than $1,000 each year for Shepherd Community Center to help end the cycle of poverty in Indianapolis, according to Metropolitan School District of Washington Township spokeswoman Ellen Rogers.
"For ten years these high school students will have shared classic literature with the community as a way to help those in need, and while they will not end the war on poverty in the tenth year as the Greek army famously conquered Troy after a decade of fighting, the goal is to advance the battle by raising $10,000," Rogers said in a news release.
"The Latin students at North Central High School have taken seriously the words of the philosopher Cicero and are using what they have learned for the common good."
MORE TOP STORIES | Pet raccoon, stoned off of too much weed, brought to Indianapolis firehouse. Confusion ensues. | Large fight at Sikh temple in Greenwood leaves nine injured | Accused killer of Boone County sheriff's deputy sharing photos on social media from behind bars | Police looking for 2 women connected to 1-year-old Malaysia Robson's death | 2 dead, child injured in Westfield crash
Top Trending Videos