People who work in Marion County, but don't live here, may help may for road repairs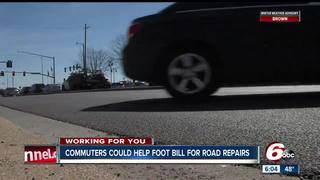 INDIANAPOLIS -- The mayor of Indianapolis wants people who live outside of Marion County, but who work in Indianapolis, to help pay for road repairs in Marion County.
Mayor Joe Hogsett says Indianapolis and communities across the state could benefit from a commuter tax to help pay to repair potholes and create funding for other pressing needs.
Nearly 185,000 people commute to Marion County for work, according to numbers from Indiana University's Kelley School of Business. 55,000 of those people come from Hamilton County.
Mayor Hogsett says he's interested in the idea of adjusting how the local income taxes those commuters pay are distributed, specifically with Marion County getting some of the money.
"There are a lot of things we need to do as a community, both in Indianapolis and in the outlying collar communities. So, I'm not sure," said Jean Roberts, Fishers.
Mayor Hogsett is calling for a conversation between municipal leaders from around Indiana and state lawmakers later this year.
"Which would involve the possibility of the GA perhaps changing the distribution of local income taxes that are paid by everyone to acknowledge and recognize the place where that income is derived," said Mayor Hogsett.
The idea could be a tough sell to state lawmakers who would have to approve it.
Fishers Mayor Scott Fadness says he's open to a regional conversation about infrastructure, but he doesn't think a commuter tax is the answer.
"I think this idea of quickly trying to grab funding from another location may not be the most rational and logical choice going forward. I think we need to sit down as a region and really think collectively about what makes sense moving forward," said Mayor Fadness.
Fadness says whatever is discussed needs to be a long-term solution for the entire region.
Mayor Hogsett says he thinks there is momentum for the conversation, based on the conditions of the roads.
Top Trending Videos