Donnie Wahlberg gives Indy Waffle House waitress huge tip after visit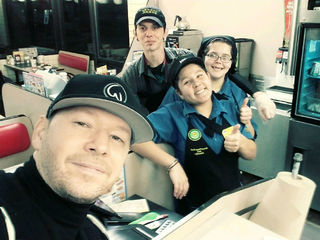 INDIANAPOLIS -- An Indianapolis Waffle House waitress received a generous tip when a celebrity stopped by to eat over the weekend.
Actor Donnie Wahlberg ate at the Waffle House on Lynhurst Drive, on Indy's southwest side over the weekend. Wahlberg, a huge Boston Celtics fan, was in town for the Pacers-Celtics game.
He left waitress Kassie Rhea a $1,000 tip and took a selfie with her and a couple of other employees.
"He said to share it with the other server and the cook on the shift, but majority of it being for her," said Alex Herring, the restaurant's manager. "She was super happy."
Rhea gave $200 each to the other server and the cook.
In addition to being in the band New Kids on the Block, Wahlberg has starred on the TV show "Blue Bloods," and has appeared in "Band of Brothers," "Boomtown" and the "Saw" movies.
MORE TOP STORIES | Director of no-kill richmond animal shelter fired after dogs euthanized | PHOTOS: Meet the children looking for homes in Indiana | Women mad over missing McNuggets climb in drive-thru window, assault manager at Indy McDonald's | Davey Blackburn says he's engaged to be married, 2 years after his wife's murder | Chief: gas leak found in exploded house in Camby
Top Trending Videos