TRAFFIC ALERT: Weekend road projects, innovative bridge placement method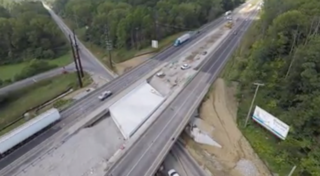 I-70 EAST OF INDIANAPOLIS CONSTRUCTION
If you're heading to Ohio this weekend or live east of Indianapolis, a few weekend construction projects on I-70, east of the Circle City might impact your travels.
Starting Friday night at 9-o-clock and continuing until Monday morning at 6-o-clock, both the northbound and southbound I-465 ramps to eastbound I-70 will be closed.
At the same time, two right lanes of both eastbound and westbound I-70 will be closed, as well.
A little further east, in Greenfield, a reminder that the State Road 9 entrance ramp to eastbound I-70 is closed through October for the remainder of the construction for the Brandywine Creek bridges.
So, again, if you're heading east, plan ahead to ensure all of your weekend fun happens on time!
STATE ROAD 121 BRIDGE SLIDE PROJECT
A major bridge project on I-70 around State Road 121 or New Paris Pike in the Richmond area will cause a lot of changes for the next two weeks or so, as the final product is put into fruition.
Starting Friday night at 9-o-clock, westbound I-70 will be restricted to one lane and shifted across the median, for up to 13 days.
During this time, the westbound bridge will be demolished and a new bridge deck already built into the median will be slid into place.
You heard that correctly, slid into place.
Nathan Riggs of INDOT said this method of constructing bridges is an innovative way to reduce long-term bridge construction impacts on interstate traffic, and it's the first time a bridge has been slid into place over dry land in the entire state of Indiana.
Though this method reduces long-term impacts on traffic, you can expect some short-term impacts.
Backups of about ten miles are expected on westbound I-70 so you might want to take an alternate route.
One of these detours is to go north on Ohio Route 127, west on U.S. 36, and south on U.S. 27 to get back to I-70.
And again, this project begins Friday night at 9-o-clock and will continue for up to 13 days.