2 adults, 1 child seriously hurt in Wayne Township head-on crash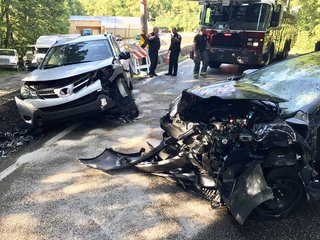 INDIANAPOLIS -- An 8-year-old child and his mother were seriously injured in a head-on crash on Indianapolis' west side Sunday morning.
The crash happened around 9 a.m. on an S-curve on Country Club Road near the intersection of Sunningdale Boulevard. An SUV and a sedan were involved in the crash.
The mother was trapped in the car when Wayne Township emergency crews arrived on the scene.
The 8-year-old boy was taken to Riley Hospital where he is listed in critical condition. The boy's mother was taken to Eskenazi Health with non-life threatening injuries, but is listed in serious condition. The driver of the second vehicle was taken to Methodist and is listed in stable condition, according to the Wayne Township Fire Department.
No further details have been released. The Indianapolis Metropolitan Police Department is investigating the cause of the crash.