INDOT worker struck, killed by car in Putnam County
Police: 79-year-old driver didn't stop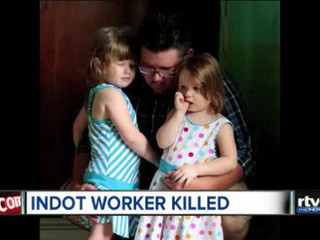 PUTNAM COUNTY, Ind. - A construction worker was struck and killed along U.S. 36 in Putnam County on Tuesday, police said.
The crash happened just after 10 a.m. in the eastbound lanes just west of County Road 600 West.
Eastbound traffic was stopped as Indiana Department of Transportation workers removed debris from the edge of the roadway when a car failed to brake, police said.
The driver swerved to avoid rear-ending stopped traffic, but the vehicle struck a flagman standing on the south side of the roadway, police said.
Steven Overbay, 27, was pronounced dead at the scene. He had worked with INDOT since 2007.
Neighbors say the North Putnam High School graduate lived in Roachdale with his two daughters.
The driver of the car, Cleve Scott, 79, of Rockville, was taken to Methodist Hospital with a broken arm and cuts.
His passenger, Aldene Smith, 75, of Rockville, Scott's sister, was not injured.
State police said five signs were in place warning oncoming traffic of the flagman and construction and that Overbay was wearing his required high-visibility reflective vest at the time.
"We had the work zone set up appropriately and he was tragically killed doing his job," said INDOT spokeswoman Debbie Calder, who worked with Overbay in the Crawfordsville District. "You work with people on a daily basis, you get close with them. Not only that, I do have family that works for INDOT, and you worry about them on a daily basis being out there."
Both lanes of State Road 36 were shut down in Putnam County into Parke County shortly after the crash.
The Indiana Department of Labor said Overbay's was the fifth INDOT worker killed on a project since 2007, not including contractors.
"Our hearts break tonight to this young man who will not be able to go home to his two little girls," said Calder.