Indy council considers digital billboards proposition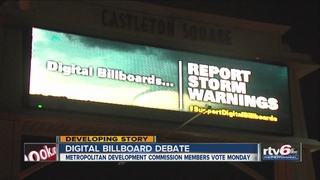 INDIANAPOLIS - Indianapolis City-County Councilors are considering a proposal to permit up to 75 digital billboards in the city limits.
Currently, digital billboards are banned from Marion County, and the number of neighborhoods opposing their legalization continues to grow.
So far, about 30 neighborhood groups have said they're against the proposal. Opponents say changes to zoning ordinances typically originate with the Metropolitan Development Committee, not the City-County Council.
"We would hope that the councilors will listen to their constituents from over 30 neighborhoods," said Marjorie Kienle, of Historic Neighborhoods of Indianapolis. "Let's do it right."
We reached out to the billboard companies supporting the ordinance – proposition 250 – but none had yet returned our calls.
The Metropolitan Development Committee is set to vote on the ordinance on Monday. If it passes, it will proceed to the full council.