Inside endangered Indiana landmark Simpson Hall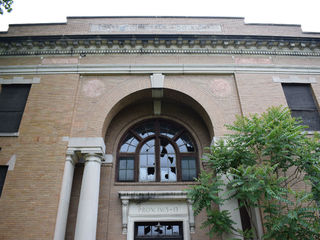 INDIANAPOLIS -- When Simpson Hall was built in 1911, it was part of Indiana's pioneering effort to provide state-sponsored education for the deaf. But after 30 years of neglect, it's now one of Indiana's most endangered landmarks.
The building was part of architectural firm Rubush & Hunter's original neoclassical campus that now sits behind the Indiana State Fairgrounds. It's one of a number of notable buildings by the firm in Indianapolis, including the current Hilbert Circle Theatre, the Madam C. J. Walker Building and the Columbia Club.
Simpson Hall served as the girl's dorm at the Indiana School for the Deaf for generations of students, but has been vacant and without maintenance for more than three decades. It was on Indiana Landmarks' 10 Most Endangered List from 1999-2005, and returned to the list this year.
Click the image above to see photos from inside the abandoned Simpson Hall.
Because of its importance to the school, and its close proximity to the Monon Trail, Indiana Landmarks Vice President of Preservation Services Mark Dollase says he's hopeful a new use for the building will be found.
"Despite its condition, we have several developers interested in repurposing the building as apartments," Dollase said.
ALSO READ | See the full list of Indiana's 10 Most Endangered Landmarks
To learn more about Simpson Hall and Indiana Landmarks, click here.
MORE TOP STORIES | Trash, trash and more trash left after Indy 500 | PHOTOS: The greatest spectacle in people watching | PHOTOS: The Snake Pit concert at the Indy 500 | Scott Dixon, Jay Howard walk away after nasty crash in turn 2 at Indy 500 | Former NFL referee has unusual Peyton Manning story