Jared Fogle, ex-Subway spokesperson, sentenced to more than 15 years for sex with minors, child porn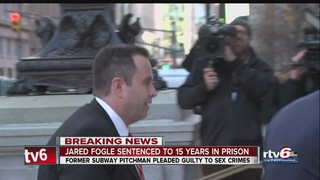 Former Subway pitchman Jared Fogle will spend more than 15 years in prison for possession of child pornography and traveling across state lines to have sex with minors.
Fogle pleaded guilty to two felony counts Thursday in U.S. district court in Indianapolis. He'd been on home detention for months following an FBI raid on his Zionsville home in July.
In an hours-long sentencing hearing, federal prosecutors painted a picture of a man who was complicit for years in the production of child pornography by his employee, Russell Taylor – even if he wasn't involved in the production himself.
RECAP: Fogle's sentencing hearing details his crimes
"Jared Fogle absolutely knew who many of these victims were," U.S. Attorney Steve DeBrota said. "He knew where they would be. He absolutely knows what's going to happen to these people he's at a restaurant with."
Prosecutor says there is set of text messages where #JaredFogle "makes clear he is more interested in youth aspect."

— Jordan Fischer (@Jordan_RTV6) November 19, 2015
DeBrota called Taylor an "absolute monster," but said Fogle could have "caged" him. Instead, DeBrota said, Fogle took full advantage of Taylor's access to child pornography.
"He's getting it after the fact, and he's getting it enthusiastically," DeBrota said.
Fogle's defense, unburdened with the need to try to prove their client's innocence, worked to reframe him as a man suffering from multiple serious issues.
On behalf of the defense, Dr. John Bradford testified he had diagnosed Fogle with hypersexuality, alcohol dependency and "mild pedophilia."
FULL STATEMENT: Jared Fogle speaks at his sentencing
Bradford also posited another theory the defense would repeat several times: Fogle's eating addition was replaced with a sex addition.
According to Bradford, Fogle tested in the 94th percentile for male sex drive, qualifying him as "hypersexual." Bradford said Fogle described having an extensive pornography collection while a student at Indiana University, and also expressed sexual attraction and fantasies about minors as young as 12 years old.
Dr. Bradford: "I do believe he suffers from pedophilia." #FogleSentencing

— Jordan Fischer (@Jordan_RTV6) November 19, 2015
Nevertheless, Bradford maintained against prosecutorial scrutiny that Fogle is a "mild pedophile" – a non-clinical diagnosis, Bradford said, but one he thought was worth drawing.
"There's no evidence I know of, or anyone knows of, that Mr. Fogle acted on urges" with very young children, Bradford said.
WATCH: RTV6 Senior Digital Correspondent Jordan Fischer talks about Fogle's demeanor and reaction in court, and about the most gripping moments of testimony.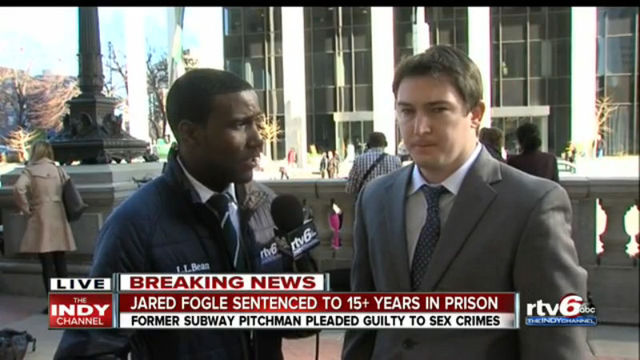 Prosecutors countered with evidence Fogle engaged in phone sex with boys and girls as young as 9 years old, and viewed pornographic images sent by Taylor of children even younger.
Prosecutor says Russell Taylor emailed child porn involving 6-year-old girls to #JaredFogle. Fogle also showed child porn to prostitutes.

— Jordan Fischer (@Jordan_RTV6) November 19, 2015
Attorney Richard DeVooght, representing Fogle, said his client's conduct was "pathetic" and "despicable," but didn't warrant a sentence beyond 5 years in prison.
"His passivity was pathetic," Devooght said, but, "he was not out there warehousing these massive amounts of child porn."
Defense: "It's all pathetic conduct, but we're trying to figure out where on the spectrum of pathetic conduct it falls." #JaredFogle

— Jordan Fischer (@Jordan_RTV6) November 19, 2015
Federal prosecutors agreed to ask for no more than 12.5 years in prison for Fogle as part of a plea deal. His lawyers in turned asked for no less than five. Before he learned his sentence, Fogle himself took the podium to make a tearful statement.
#JaredFogle: "I have become dependent upon alcohol, pornography and prostitutes."

— Jordan Fischer (@Jordan_RTV6) November 19, 2015
"At the time I truly did not think through what I was doing," Fogle said. "Nor did I think about the consequences of my actions. I've learned so much about the underage minors with whom I've paid to have sex with. Not a day will go by that I don't think about them, what I did and the impact on their lives."
However U.S. District Court Judge Tayna Walton Pratt decided to exceed the prosecution's request, sentencing Fogle to 188 months in federal prison.
In her explanation, Pratty said Fogle could have sought treatment when his sexual deviancy first began showing, but he didn't.
INSIDE THE COURTROOM: Sketches of the sentencing
"Mr. Fogle was living a double life, and for many of those years was living in a web of deception and depravity," Pratt said.
Federal sentencing laws require inmates to serve at least 85 percent of their sentences, meaning Fogle will have more than 13 years behind bars before he is eligible for parole. His attorneys requested he be placed in the federal penitentiary in Littleton, Colorado, to participate in a sex offender treatment program.
Fogle was remanded into U.S. Marshal custody immediately following his sentencing. The Federal Bureau of Prisons will determine where he ultimately will serve his sentence.
TIMELINE | Fogle's rise to fame before crimes came to light | Felons: Fogle plea deal a 'slap in the face'
A national victims advocacy group lauded the verdict Thursday.
"We're glad for this sentence," said David Clohessy, director of the Survivors Network of those abused by Priests. "But we're especially glad that, for years, he won't have the chance to hurt any more kids. And we're grateful that his courageous victims cooperated with law enforcement.
Indiana State Police Superintendent Doug Carter also released a statement following the sentence, encouraging those who need help with similar issues to come forward.
"So with this announcement we also take the opportunity to encourage, in the strongest words possible, any past or current victims of unreported child sex crimes to seek help from law enforcement and bring these vile criminals to justice," said Carter.
----
Download the free RTV6 app to get the latest news on the go and receive alerts to your phone
Sign up to have the latest news headlines delivered straight to your email inbox