Franklin small business celebrates 20 years in same location, embraces new changes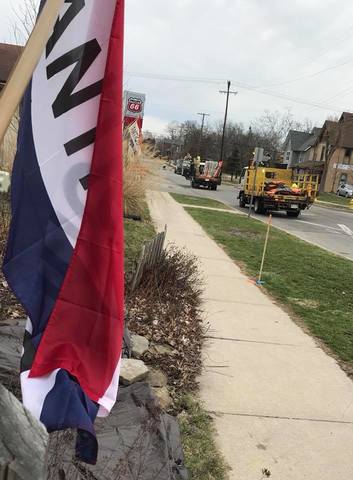 FRANKLIN, Ind. -- Through the dust of the new Jefferson Street construction project, there's a small business packed with history.
Through the large windows of this quaint antique shop you can see antique toys, gardening tools, benches, baskets and more. And as the City of Franklin changes and transforms into a more vibrant downtown space -- Thanks for the Thyme is looking back, celebrating 20 years at 396 E. Jefferson Street this month.
In May of 1998, owner Jo Jurgensen thought it would be fun to open an antique shop in Franklin. She set up shop in a little building east of the railroad tracks between Franklin College and the heart of downtown. At the time, it was a quiet little corner of the city.
She says for many years, it was not the greatest location for a small business. She watched as several neighbors came and went, with one of her most memorable neighbors being a magic prop shop. There was a True Value store across the street, but Franklin was not yet established as a destination for shoppers.
Jurgensen continued to search for unique items for her shop.
"We're very eclectic," says Jurgensen. "It's not your typical antique store divided into booths. That's never been my philosophy. And it's the same now as it was back then."
She's sticks to what she knows, and what works for her small business. On a typical day, there are 3 people in the shop and they supply anything from antiques to fine wool crafts, to gardening items and candles, and even classic toys.
"You just never know what you are going to find, and it has been that way for 20 years," says Jurgensen.
Thanks for the Thyme does not house your typical manufactured goods, with the exception of some candles. The items inside come from homes, antique shows, friends, and other locations. The items are carefully selected to fit into the theme, which is a feeling of coziness and being back at home.
Today Jurgensen looks out those big windows to a changing Jefferson Street out front. The street is torn up as the city works to improve Jefferson Street as part of their downtown revitalization. While the closed road makes vehicular and foot traffic to her shop a little more treacherous, she says business has not really been impacted in any negative ways.
"The city's facade improvements look so good and the construction out in front of us hasn't hurt us to much and customers are still coming," says Jurgensen. "It's going well and Franklin overall has done a nice job improving our downtown."
Not only do the facades and streets look new, attracting visitors to the city -- but now Franklin has become a destination for antique shoppers. The city itself, through the downtown, holds anywhere from 10-12 different places for shoppers to visit.
In her 20th year in business, Jurgensen reflects on how Franklin is changing for the better of her business. But while the downtown landscape gets a new look, she plans to stick to what Thanks for the Thyme does best.
"I'm pretty old school. We hope to continue down this road that has worked for us. People like the atmosphere and we do a pretty decent job of drawing people in."
Thanks for the Thyme is offering 20 percent off select items each Saturday to celebrate their 20 years in business.
MORE TOP STORIES | Arrest made in 2016 murder of Indianapolis woman | Dozens of Indianapolis area concerts discounted to just $20 for National Concert Week | Accused killer of Boone County sheriff's deputy sharing photos on social media from behind bars | If you're traveling to Michigan or Kentucky this summer, get your hepatitis vaccine first | Doctors detail numerous injuries to 18-month-old boy before his death, according to court docs
Top Trending Videos