Johnson County offers program to help pregnant women stop smoking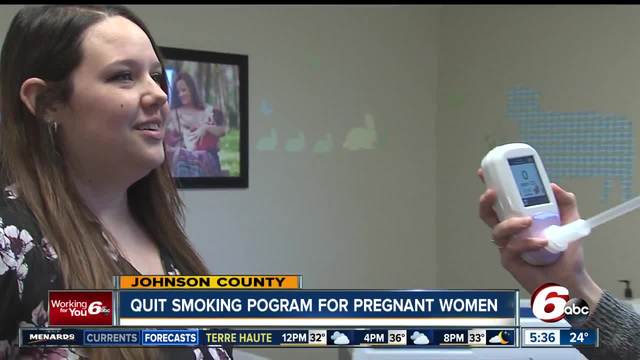 FRANKLIN, Ind. -- The Johnson County WIC and the Partnership for a Healthier Johnson County earned a grant of more than $30,000 to team up with the nationwide program called Baby and Me Tobacco Free. It's an incentive-based program hoping to help pregnant women quit smoking during and after their pregnancy.
To be eligible, the soon to be mom has to be a smoker or have smoked three months prior to her pregnancy.
In 2014, about 15% of women living in Indiana smoked while they were pregnant. This resulted in numerous health risks for the kids, low weight or preterm births, and higher infant mortality rates.
Then she will have to go through several prenatal sessions before the baby is born.
To prove she is tobacco-free she has to pass a smokerlyzer test to get a $25 voucher for diapers and wipes. These vouchers are redeemable at your local Walmart.
"it is built to pick up that specific smoking chemical reaction that happens in the lungs," said Tracy Smith, Johnson County WIC Coordinator. "It is going to pick up people who have actually inhaled and smoked cigarettes. There are different levels from zero all the way up to higher numbers so those levels tell us if it's just going to be a pollutant in the environment or when you hit a certain number it's going to say this definitely smoking."
The smokerlyzer test also tells you how much of the chemicals from smoking reaches the fetus.
Smith understands relapses can happen.
"We counsel what was the stress risk factors, and we have them come back that next week," Smith added. "So, we give them another chance to come back and give them tools to help them do that. They've never kicked off the program. Obviously, we're going to continue to work with them."
If you live with a smoker then they too can enroll in the program as well and they too can earn vouchers as well if they pass the smokerlyzer test.
After the baby is born, the mother can stay enrolled in the program for an additional 12 months.
Johnson County WIC is hoping to hit their enrollment goal of 35, and if they do, the grant will be extended for another year.
MORE TOP STORIES | Boone County deputy shot during pursuit identified, will not survive his injuries | What led up to the fatal wounding of a Boone County deputy | Victims in Carroll Co. plane crash identified | Teen siblings killed in crash on Indy's west side | Toddler's death under investigation in Martinsville
Top Trending Videos