Lafayette police officer gets hit with federal lawsuit after wheelchair-pushing incident
Lawsuit leaves out key detail from incident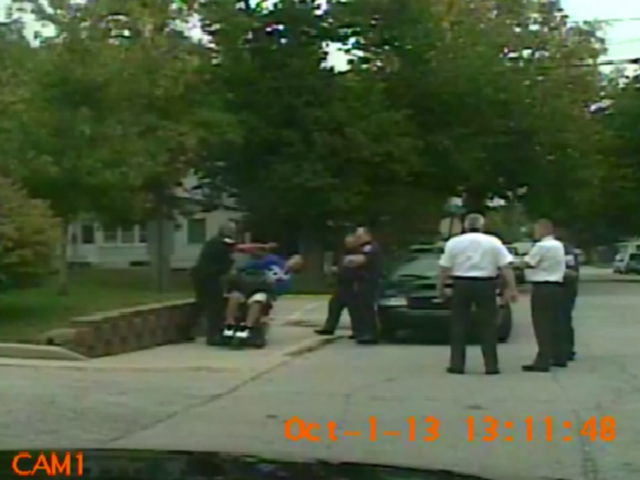 LAFAYETTE, Ind. - The Lafayette police officer who was demoted for pushing over a man in a wheelchair is now facing a federal lawsuit.
The Lafayette, Ind., police department (LPD) recently released dash cam video of an October 2013 incident in which a paraplegic man reportedly ran over the foot of Lt. Tom Davidson, who then pushed the man and his wheelchair over the curb and onto the ground. Watch the dash cam video attached to this story, or here.
The video made news as investigators released details on the punishment for Davidson: one month's unpaid suspension (during the investigation), one year's probationary supervision and a demotion from lieutenant to first-class officer.
An investigation into the incident recommended termination for Davidson, but a commission declined to terminate him. On the other side of the coin, the man in the wheelchair was subsequently charged with battery against an officer (felony) for rolling over Davidson's foot, but that was dropped as well.
Now, the man in the wheelchair, Nicholas Kincade, has filed a federal lawsuit against both Davidson and the City of Lafayette.
The suit, filed in the U.S. District Court of Northern Indiana (in Hammond), alleges that on the day of the incident, Davidson had searched Kincade's backpack without a warrant. Police reports showed the officers had originally been called that day on reports of a man with a gun in his backpack, though they found only a pocket knife in Kincade's bag.
It says then, when Kincade tried to maneuver his wheelchair to the bus stop located nearby, Davidson "shoved and battered" him, causing him to fall.
There is no mention in the lawsuit that Kincade rolled over Davidson's foot, although LPD and Davidson reported that he did.
There is, however, a reference to the weight of Kincade and his wheelchair on that day: According to court documents, around October of 2013, he and his wheelchair weighed roughly 500 pounds, altogether.
Court documents go on to say Davidson shouted something akin to, "Now you're going to jail," after Kincade was pushed. Kincade also reported that he was handcuffed and then dragged to the police car.
The lawsuit says that in the exchange, Kincade was physically injured, his wheelchair was broken and he suffered "significant humiliation and embarrassment" at the hands of Davidson and the other officers on the scene.
Furthermore, the lawsuit mentions violations against the Americans with Disabilities Act (ADA), saying Kincade was subjected to "a wrongful arrest based on his disability, not for any criminal activity."
Court documents said Kincade is demanding a jury trial on the incident.
We'll continue to follow this story as it develops.