Love in 140 characters or less: Couple finds love on Twitter, hundreds of miles apart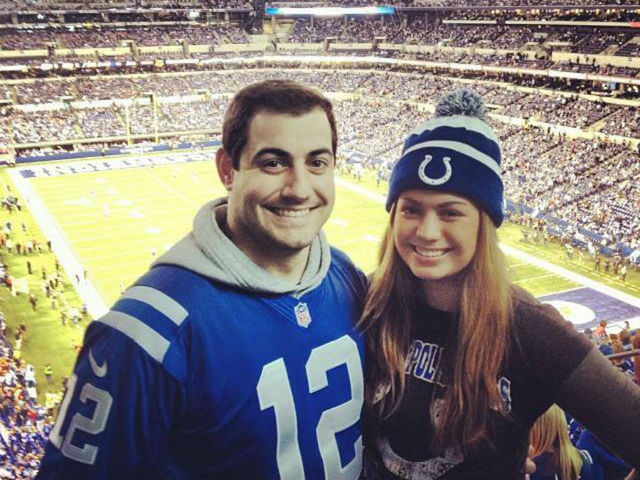 INDIANAPOLIS - "Everybody gets twitterpated in the springtime," the wise owl informed Bambi and friends in the 1942 Disney classic.
For Kacy Capobres and Joe Ray, it actually happened in the summer.
"While I have always seen Twitter as a great networking tool, I never thought it would land me a date,"
Kacy wrote on her blog, kacyjayne.com.
The Arizona native was living in New York City in August 2012, working at Fox News Latino when she got a text from a friend, Bairet Bazemore, who said he had a friend in Indiana who saw her Twitter page and thought she was cute. Kacy, a reporter and social media manager, immediately vetted his account.
"When I discovered that he was in fact a very attractive man, I thought the least I could do was follow him," Kacy said.
They started tweeting and direct messaging each other on Twitter. Kacy thought it was an innocent flirtation over social media that wouldn't lead to anything, but the more she got to know Joe, the less interested she was in the men she was meeting in New York.
Three months and hundreds of messages later, Kacy decided to take the plunge and give Joe her phone number. She said her heart skipped a beat when he texted her cellphone within minutes. Not long after that, Kacy found herself getting off a plane at Indianapolis International Airport.
"Thankfully, our first meeting did not resemble an episode of MTV's 'Catfish,'" she joked.
Kacy said she knew as soon as she saw Joe at the airport that taking this leap of faith was the right thing to do, even if it seemed strange at first. Twitter isn't exactly Match.com.
"I thought the whole idea of being interested in a girl living on the East Coast was absurd from the beginning," Joe agreed. "When Bairet was trying to set us up, I remember telling him that it'd never amount to anything and if Kacy hadn't made the 'first move' by giving me her number and then suggesting and making a visit happen, it never would have. I'm just so glad she did."
Almost a year later, Kacy moved to Indy. Ten months later, the couple got engaged.
"It's incredible to think that I found my fiance on a social media site that only allows you to share instances of your life in 140 characters or less," she said.
The couple will move into a newly-constructed home in the Cottage Home Neighborhood on the Near Eastside in April, a month after they marry in the bride's hometown of Scottsdale, Arizona.
An honored guest at the wedding will be Bairet Bazemore, who's since admitted he'd been looking for a way to set up his two friends and might have exaggerated about Joe instantly having a crush on Kacy after looking at her Twitter page.
It makes no difference to Kacy, who wants to share her story with anyone looking for love who might be skeptical of an online courtship.
"I hope our Twitter love story gives you hope that your fairy tale ending could be just a tweet away."
-----
Follow Shannon Samson on Twitter: @ShannonSamson