Attempted rape suspect has long criminal history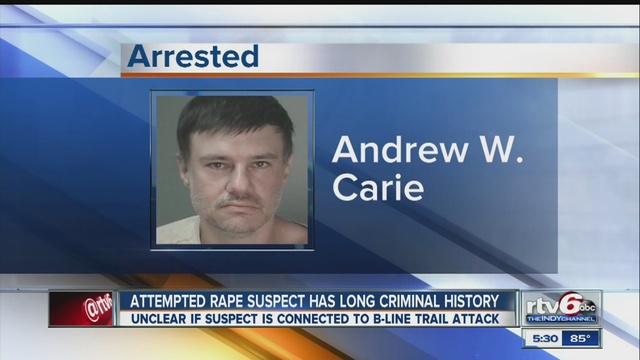 BLOOMINGTON, Ind. - A man with a history of sexual assault was arrested on multiple charges, including attempted rape, in Bloomington on Wednesday morning.
Police were called to a residence in the 1200 block of West 7th Street at 3 a.m., officials with the Bloomington Police Department said.
Andrew Carie, 42, was accused of breaking into a home and lying on top of a female with his hand over her mouth while she slept.
The victim pushed Carie off and he ran away. Officers found Carie hiding in nearby bushes and he was taken into custody.
Carie told police he saw the man they were looking for and tried to chase him down without success. Police said Carie left muddy footprints and his jacket -- with his identification inside -- on the scene of the attempted rape.
Carie faces charges of attempted rape, burglary and confinement. Charges of being a habitual offender were also filed due to Carie's criminal history dating back to 1991.
Carie has convictions for child molesting, criminal confinement and most recently failure to register as a sex offender.
Bloomington police were unclear if this incident and Monday's attempted sexual assault on the B-Line Trail had any connection.
"Both investigations remain open in the possibility that we could either connect or exclude Mr. Carie from that particular incident," BPD Capt. Joe Qualters said.
Carie was being held on $100,000 bond in the Monroe County Jail. His initial court appearance has not been set.
Follow Derrik Thomas on Twitter: @derrikthomas