Man behind 'Hidden Cash Indy' reveals himself
Local DJ, Butler grad left clues, cash around city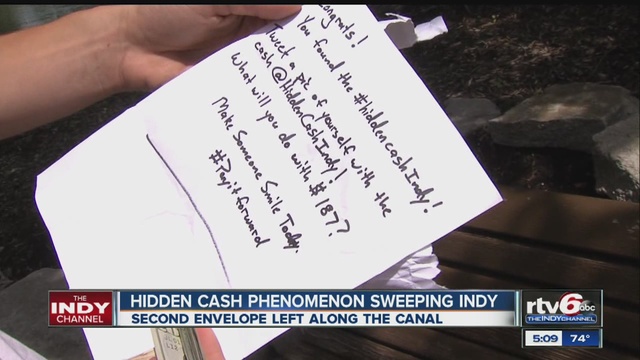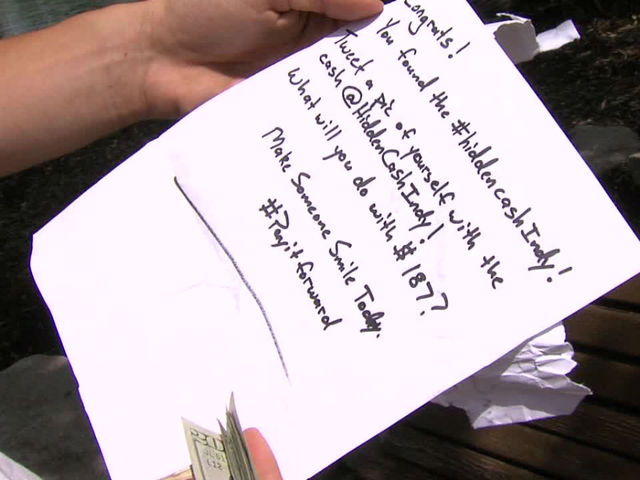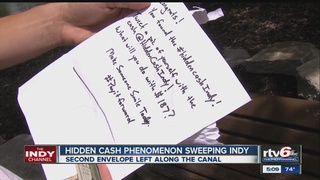 INDIANAPOLIS - The person behind the Twitter account "Hidden Cash Indy" has revealed himself after weeks of leaving cash with notes around the city.
A few weeks ago, someone began tweeting from the account @HiddenCashIndy, jumping into the social media phenomenon of leaving cash and hints for people. In a matter of days, the account's followers quickly grew to more than 15,000.
And Wednesday, the person behind it all came forward on The Kyle and Rachel Morning Show on RadioNOW 100.9.
The day has arrived....I'm getting nervous about the reveal! Listen at 740 to @RadioNOW1009.

— Hidden Cash Indy (@HiddenCashIndy) June 18, 2014
And it was easy to do... because the man behind it was none other than Kyle Smelser, one of the hosts of the show!
Smelser grew up in Pendleton, Ind., and attended Butler University.
"As much as I love my Bulldogs, I love the state more and the people in it," Smelser said. "I wanted to create something that could spread love, smiles and fun across our city. So, I played like George Clooney in Ocean's Eleven and stole a brilliant pay-it-forward idea that was started in California."
I've been a Hoosier my whole life & what I've realized in all this is something I already knew..how awesome of people we have in this state.

— Hidden Cash Indy (@HiddenCashIndy) June 17, 2014
Smelser said he was floored by the generosity of the people who found the hidden cash.
Some who found cash donated to charities, others bought coffee, donuts and ice cream for strangers. Amazing individuals in our community.

— Hidden Cash Indy (@HiddenCashIndy) June 17, 2014
And it was fun for the rest of the city to follow @HiddenCashIndy and see what people found.
@HiddenCashIndy what a hunt today!!!! pic.twitter.com/BumepVCrMj

— Michael (@garth551) June 16, 2014
"I want to thank everyone who participated and tracked high and low for a pile of cash," Smelser said Wednesday. "Finding cash is definitely nice, but making someone smile and paying it forward is even better."
Smelser tells RTV6 that he went to his bosses at the radio station with the idea and originally said he wanted to use his own money for the Hidden Cash. But his managers said the station would supply the cash for the adventure.