Mayor holds town hall meeting to discuss anti-crime initiative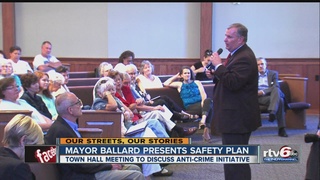 INDIANAPOLIS - The public had their first chance to weigh in on Mayor Greg Ballard's anti-crime plan at a town hall meeting Wednesday night.
With help from other city officials, Ballard laid out his early education and public safety initiative, as well as his plan to pay for it, at Southport Presbyterian Church.
Public Safety Director Troy Riggs, Indianapolis Metropolitan Police Department Chief Rick Hite and Deputy Mayor of Education Jason Kloth were also on hand to help explain what the plan means for the community.
"At the end of the day I believe as a city we've had too many people die regardless of their backgrounds and we need to be concerned with that and deal with that as a community," Riggs said.
The mayor's anti-crime plan puts an emphasis on increased funding to hire more police officers and to pay for early education.
"We are one of 10 states in the nation that up until this coming year, will have provided no funding for children to attend a high-quality preschool," Kloth said.
City leaders estimated the Homestead Tax Credit saves the average Marion County homeowner $1.84 a month. Ballard wants to eliminate it and put $25 million into scholarships for preschool.
"High-quality preschools aren't going to solve everything, but the studies are now 40 and 50 years old and it says it puts them on a completely different path," Ballard said.
"Education can help educate you, but if there aren't adequate laws to prevent injustice than there's going to be crime, there's going to be rage," one taxpayer said.
The plan presented at the town hall meeting also included a push for a mandatory minimum sentence of 20 years for people convicted of crimes using guns.
Officials told the crowd 25 percent of Indianapolis homicides this year would have been prevented with a 10-year minimum sentence.
Wednesday's meeting was the first of at least three meetings. The mayor's office has yet to announce the dates and locations of future meetings.
Follow Ebone Monet on Twitter: @ebonemonet26 | Facebook: Ebone Monet