Measles case reported in central Indiana
Officials warn about more possible exposures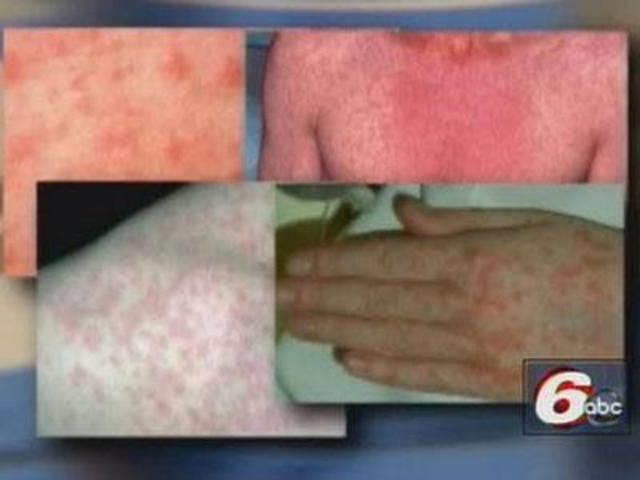 INDIANAPOLIS - State health officials confirmed a case of measles in central Indiana on Friday and said more people may have been exposed.
Officials said anyone who visited the following locations on the given dates and times could possibly have been exposed:
July 17, 1:45 p.m. to 5:10 p.m.
St. Vincent Immediate Care Center
10801 N. Michigan Road, Suite 110
Zionsville, IN 46077

July 18, 6:30 p.m. to 10 p.m.
Ocean World Restaurant
1206 86th St.
Indianapolis, IN 46260

July 19, 12 p.m. to 6 p.m. & July 22, 10 a.m. to 4:20 p.m.
St. Vincent Carmel Hospital Emergency Department
13500 N. Meridian St.
Carmel, IN 46032

July 20, 8:30 a.m. to 11:30 a.m. & July 21, 11 a.m. to 1:30 p.m.
St. Vincent Outpatient Treatment Center
11455 N. Meridian St., Suite 210
Carmel, IN 46032
Health officials said most people have been vaccinated against the virus as a child and are immune. However, if you are unsure about your vaccination history, or your work with children, you should check with your healthcare provider or visit www.myvaxindiana.in.gov.
Signs of measles infection include a fever, cough, runny nose and dry eyes 7-10 days after exposure. Severe cases can result in a widespread rash and fevers as high as 105 degrees.
This case of measles is not believed to be related to a major outbreak in an Ohio Amish community, officials said.
For more information about measles, please visit the Centers for Disease Control and Prevention at http://www.cdc.gov/measles.