Ministers rally for renovations for Keystone North Apartments residents
Rodents, poor plumbing, crime plague residents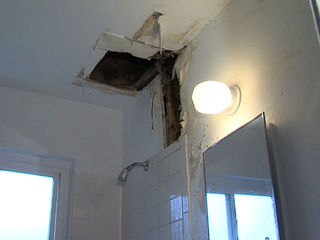 INDIANAPOLIS - A grass roots effort is under way to improve the quality of life for the residents at a troubled apartment complex.
A group of ministers have taken up the cause for residents of the Keystone North Apartments, formerly known as the Phoenix Apartments.
The Keystone North Apartments have been called an island of despair in a sea of prosperity.
"Since I've been staying out here, the only problem I've had is with mice," a Keystone North resident said.
Many at the complex have a problem with mice. Others also have problems with plumbing.
"The ceiling in my bathroom was leaking from the people's toilet upstairs. It was pee," one resident said.
"The girl upstairs from me, her pipes burst. Her feces pipe burst and it came down my walls and ceiling," another resident said.
One resident has put up with a hole in the ceiling for more than two weeks. The sink is near collapse and there's mold growing throughout.
"I actually spoke with the maintenance man yesterday. He said they were too busy to come and handle it," the resident said.
Another tenant described a plumbing leak behind a light fixture of a bathroom wall. She called it a fire hazard.
"It's been about a month since I've shown them and they still haven't fixed it," she said.
Not all of the problems are found inside -- the apartment complex has crime.
"There's a bunch of shooting going on. But last night, there was a lot of shooting. They had a lot of police here," a tenant said.
In fact, police have been called to the apartment complex at least 700 times in the past six months.
"Because of that taxpayer drain out there called the Phoenix Apartments, that's where the bulk of our tax dollars are going," Dr. Michael Bluitt, with Ministerial Alliance, said. "Seven-hundred calls in the past six months. Ridiculous."
Members of the city's clergy have formed a coalition to pressure the complex into making repairs and making life livable for residents.
"We want these people to be secure," said Rev. Fitzhugh Lyons. "That's why we're in this fight. We're in it for the long haul."
The on-sight management at the apartment complex declined RTV6's request for an interview.
The ministers are working through the Department of Housing and Urban Development and Congressman Andre Carson's office to force renovations.