Miss Indiana Mekayla Diehl wants 'normal' out of body discussion
Miss Indiana champions 2 platforms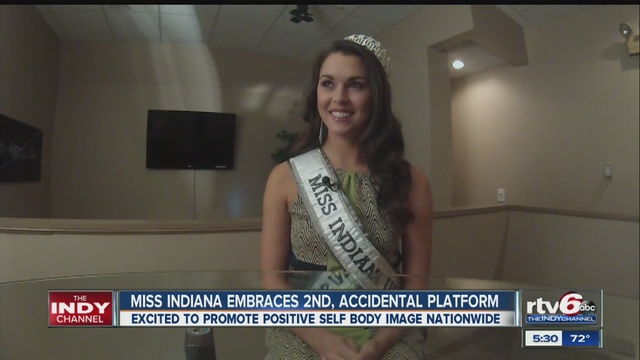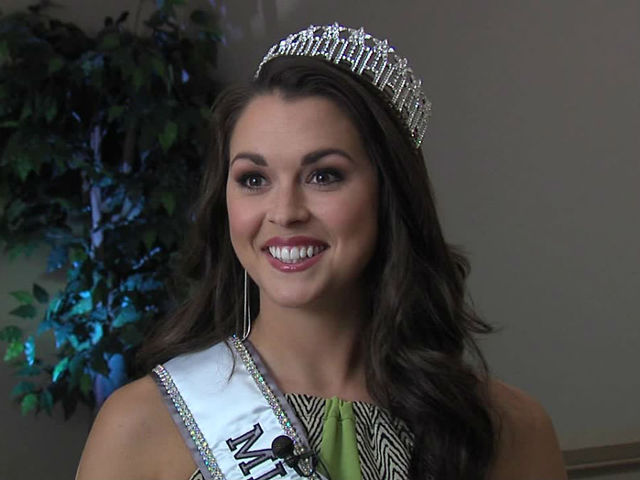 INDIANAPOLIS - The importance of having a positive self-body image -- that's not the platform Miss Indiana Mekayla Diehl originally set out to champion, but it's an obvious choice after she stole the show at Miss USA.
Diehl, 25, stopped by RTV6 for an interview Friday, days after her pageant appearance became the talk of social media, earning her national TV appearances and speaking engagements.
More: Mekayla Diehl gets emotional in "Good Morning America" interview
Gallery: Pictures of Mekayla Diehl
During the swimsuit portion of the competition, Diehl earned praise for her "normal" body appearance, standing out from the typical parade of very thin women.
Diehl is a veteran of the pageant circuit. Scholarship opportunities were a primary draw.
"I started at the festival level at the fair queen contests when I was just 12 years old," she said. "I was fortunate enough to graduate from college debt-free."
Forming friendships and taking on a platform to spread important messages also attracted Diehl to the pageant scene.
Diehl's platform was child abuse. She had been sexually abused when she was 8.
Her second platform evolved entirely by happenstance because of her 30-second swimsuit walk at Miss USA. She soon learned of the online explosion created by her "normal" body -- not super skinny, but athletic and healthy.
"By the time I got dressed to walk outside to go meet my family, I had my phone in my hand and it just blew up. I had to do a hard restart on it so it would reboot," she said. "The first thing I received was a text message from a really good friend of mine, and it contained a link to E! news or something, and it compiled all of these positive tweets about me."
Diehl wasn't immediately sure what to make of her newfound fame.
"It was such a compliment because I didn't make it to the top 10, but I had the time of my life, and it was just one of those extra moments that I really appreciated it," Diehl said. "From there, it just skyrocketed."
Diehl's appearance stirred an ongoing conversation about body appearance.
"It's brought up this big question, 'What is normal?'" Diehl said. "We have a skewed view of what the average woman looks like."
Diehl is grateful for the unexpected opportunity to discuss the importance of maintaining a positive self-body image.
"I really wish we'd forget this whole 'normal' word. Let's just get it out of the situation and start focusing on a healthy body and celebrating the diversity of women and their bodies," she said. "We need to be teaching our girls, especially, and our boys alike that we need to be comfortable in our own skin."
Diehl isn't sure what the future holds, but she's excited about the chance to pursue both her passions.
"I have lots of doors opening, and I'm not sure which avenue I want to take. No matter what I do, I want to continue advocating for a healthy lifestyle, positive body image," she said. "The child abuse awareness that I continued when I first started in this journey to Miss USA -- I really thought about starting some foundations, maybe some scholarships."
Diehl said she's pleased with a perceived shift in how pageant participants are viewed.
"What's so great about today's pageant girl is she's usually the girl next door. They're not just looking for models anymore," she said. "Was I aware that I was more of an athletic build? Yes, but bodies don't win pageants. Confidence wins anything."